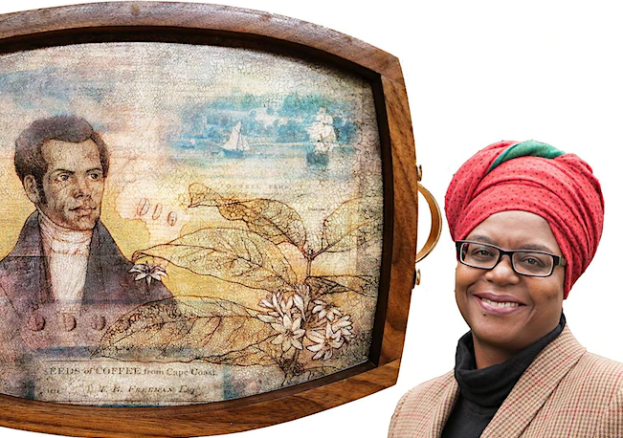 Rev. Thomas Birch Freeman (1809-1890) was an Anglo-African Victorian missionary and botanist. In 1837 he was ordained as a Wesleyan Methodist minister and travelled to the Gold Coast, modern day Ghana.
In 1869 the main coffee being grown in certain British colonies was Coffea Arabica which was being destroyed by a fungal leaf disease Hemileia vastatrix). Freeman was instrumental in distribution, via the Royal Botanic Garden Kew, in introducing the Liberian coffee in an attempt to save the coffee industry. This lecture looks at his contribution as well as his other botanical activities which have been greatly overshadowed by this religious legacy. Advolly travelled to Ghana as part of her research and aims to redress this balance so that he can finally get the recognition he deserves.
Advolly Richmond is a plant, garden and social historian based in Shropshire. She is a Champion for the Royal Botanic Gardens Kew and a member of the Garden Media Guild. She lectures on a variety of subjects from the 16th century through to the early 20th century. Advolly is currently writing a book on the social history of plants as well as researching the life and achievements of Victorian botanist and plant collector the Rev. Thomas Birch Freeman. Advolly contributes garden history features on BBC`s Gardener's World and plant history features for BBC Gardeners Question Time radio show.
Location: Linnean Society of London Piccadilly London W1J 0BF
Register for this free event here
Date and time: Thu, 20 Jul 2023 18:00 – 20:00 BST
If you book an online ticket, the link will be sent two hours in advance of the event. Please do check your spam inbox if you have not received it.
To hear about our other events, subscribe to Linnean News.