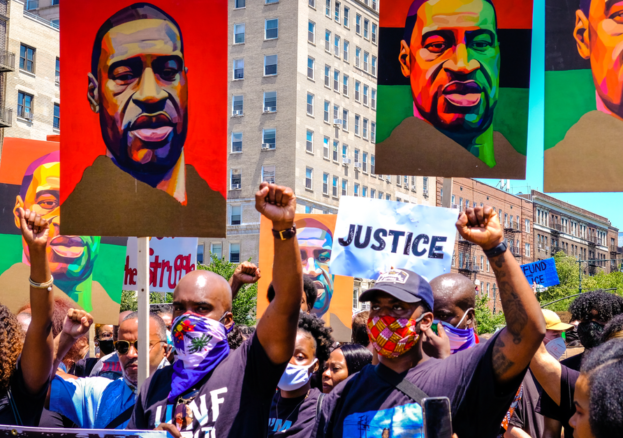 Protests were everywhere as people were anguished and angry over his death, and some set fires, broke the windows of department stores, and stormed police precincts.
Suddenly sports stars, from F1 drivers to Premier League stars were taking the knee to show their support for Black Lives Matter to a global audience on TV.
One year on to Floyd's death and still the Black Lives Matter movement is making the news.
The Movement Started in 2013
The Black Lives Matter campaigns are against violence and systemic racism towards Black people. In fact, the international human rights campaign actually began on social media back in 2013 with the #BlackLivesMatter hashtag.
It has since gone on to lead calls for Black people to be treated fairly by authorities in the  UK, USA and around the world.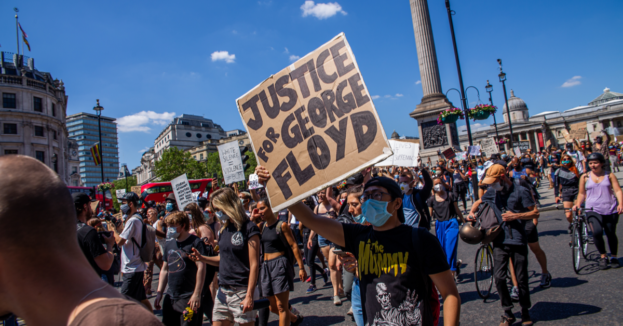 According to Black Lives Matter, the movement is "an ideological and political intervention in a world where Black lives are systematically and intentionally targeted for demise. It is an affirmation of Black folks' humanity, our contributions to this society, and our resilience in the face of deadly oppression."
In 2018, five years after Black Lives Matter began, co-founder Alicia Garza said in an interview that BLM's "goal is to build the kind of society where black people can live with dignity and respect."
From July 2013 through May 1, 2018, the hashtag "#Black Lives Matter" had been tweeted over 30 million times, an average of 17,002 times per day. Then by June 10, 2020 it had been tweeted roughly 47.8 million times.
UK Protests
Black Lives Matter went on to organise protests around the world. Here in London, two Black activists Aima, 18, and Tash, 21, organised a rally in Trafalgar Square, which was attended by thousands on Sunday, May 31st 2020.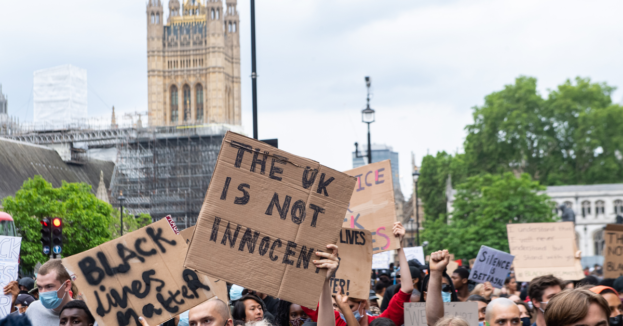 Many more have followed since. At one London protest, Star Wars actor John Boyega joined 15,000 others in Hyde Park, and told crowds:
"Today is about innocent people who were halfway through their process, we don't know what George Floyd could have achieved, we don't know what Sandra Bland could have achieved, but today we're going to make sure that won't be an alien thought to our young ones."
In January, the Black Lives Matter movement was nominated for the Nobel Peace Prize by Norwegian MP Petter Eide. His written nomination noted that, "awarding the peace prize to Black Lives Matter, as the strongest global force against racial injustice, will send a powerful message that peace is founded on equality, solidarity and human rights, and that all countries must respect those basic principles."
Verdict for Minneapolis Policeman….Maybe a Retrial???
On 20 April 2021, former police officer Derek Chauvin was found guilty on all three counts relating to his killing of George Floyd – second- and third-degree murder, and manslaughter. The jury reached the verdict unanimously after 10-and-a-half hours of deliberations.
Crowds who were gathered at the spot where Floyd was killed, outside the courtroom and across the US erupted into cheers as the verdict was read out.
Today ironically on the actual anniversary of George Floyd's death, we hear that Derek Chauvin's lawyers have asked for a new trail alleging misconduct by both prosecutors and jurors.
Will it ever end!!!
As these racial equity challenges slowly but surely make their way to the forefront of today's discussions, so have questions on how to be an ally in the movement against anti-black racism. Some key mile-markers on the path to racial equity include:
Meanwhile it is  hoped that Black Lives Matter will remain a major global movement for many years to come.