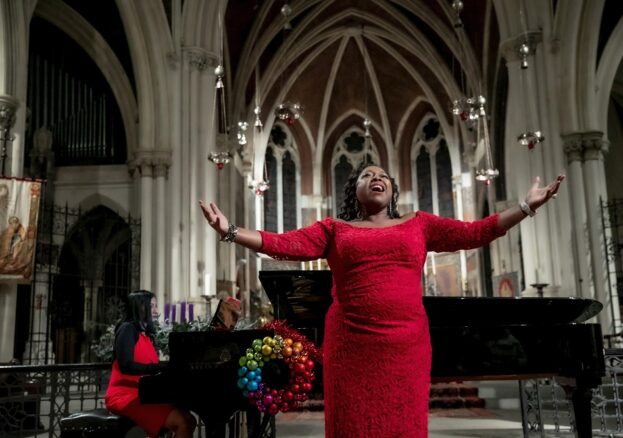 Marking the 75 anniversary of HMS Windrush landing on our shores, Bernie Grant Arts Centre returns with its fourth bold and exciting annual festival to pay tribute to the hopes and dreams of the Windrush generation. features a week of live music, film, dance, poetry, spoken word, DJs, arts & crafts, pop up stalls, a family friendly block party, a special Windrush art installation and more. Confirmed artists include contemporary ensemble Reggae Choir, professional opera company Pegasus Opera and DJ Donnie Sunshine.
The local community were invited in to curate this year's festival, and 300 secondary school children have been working with artists to create their own piece. This year's programme is inspired by Professor Laura Serrant's poem 'You Called… And We Came,' a moving and powerful homage to the dreams, sacrifices and felt experiences of the Windrush generation and their descendants.
Pegasus Opera will present a Windrush Anniversary Concert hosted by international opera star and Artistic Director of the company Alison Buchanan, alongside acclaimed Jamaican folk music singer Adwoa Dickson. The evening will feature gospel, spirituals, opera, musical theatre and songs inspired by the Black diaspora, performed by eminent global majority classical singers with music by composers of African, Caribbean and Asian heritage. An extract of Pegasus Opera's brand new Windrush Opera will also take place, inspired by the stories of the Windrush generation, which will tour the UK in 2024, with music by composers such as Samuel Coleridge Taylor, Shirley J. Thompson, Errollyn Wallen, Scott Joplin, and more. An artwork by artist Elsa James, titled 'Ode to David Lammy MP' will also be revealed before the concert begins, a piece inspired by an emotive speech by the Tottenham MP in 2018 responding to the Windrush scandal.
The Black Lens Windrush Special will screen 1972 crime movie masterpiece The Harder They Come, which was written, produced and directed by Jamaican born Perry Henzell. The classic helped promote reggae and roots as a cultural force and drove the world to recognise Jamaica as the innovatively creative hotspot it had always been, delivering a soundtrack that remains one of cinema's finest. The night kicks off with a performance from Reggae Choir and then a DJ set from DJ Ayito to end the night on a high.
The Windrush Block Party concludes the festival with a packed family friendly one-day open-air festival  in the square, featuring live-music, spoken word, arts & crafts, pop up stalls and workshops. Confirmed artists include; Steppaz, Reggae Choir, DJs Chantz Dee, Dionne Reid, DJ Donnie Sunshine and delicious Caribbean and African food on sale brought to you by Black Eats.
As well as these public facing events, BGAC will mark the occasion by welcoming over 300 local school children to the venue for their own bespoke festival. Across four weeks they have paired up with artists such as Kareem Parkins-Brown, Haley Jackson and Kobi Ayensuo to work with Tottenham-based secondary schools to devise a performance inspired by 'You Called… And We Came'.
Azieb Pool, Artistic Director and CEO of Bernie Grant Arts Centre, and founder of the Windrush Festival said, "We're thrilled to be celebrating the Windrush 75th Anniversary here at the Bernie Grant Arts Centre with our fourth annual Windrush Festival. At BGAC we champion Black storytelling across all art forms and we can't wait to present this line-up of bold and brilliant Black artists. Our Windrush festival is proudly rooted in Tottenham, with a global outlook, reflecting the brilliance and multiplicities of the Black Caribbean diaspora and inviting audiences of all backgrounds to reflect on notions of home, belonging and migration.
Bernie Grant Arts Centre (BGAC) is a unique multi-art form venue in Tottenham, North London, inspired by the vision of the late Bernie Grant MP. The iconic building, designed by acclaimed multi-award winning architect David Adjaye, is a landmark on Tottenham High Street. Led by Artistic Director/CEO Azieb Pool, BGAC invests in the creativity of Black artists, amplifying Black storytelling across all art forms; developing new audiences for this work by attracting the broadest possible range of people to it; and providing valuable career opportunities within the arts for those from underrepresented backgrounds – addressing the inequity of access that is endemic in our borough, and beyond.
Listings information
Bernie Grant Arts Centre, Town Hall Approach Road, Tottenham Green, London, N15 4RX 
19 – 24 June
Tickets from £5 with Pay What You Can (please see individual events for details)
www.berniegrantcentre.co.uk | 020 8365 5450
Black Lens Windrush Special: The Harder They Come       22 June | BGAC Theatre | From £8 (PWYC) | 7pm
Pegasus Opera: Windrush Anniversary Concert                 23 June | BGAC Theatre | From £8 (PWYC) | 7.30pm
Windrush Block Party                                         24 June | BGAC Square & Plaza | From £5 (PWYC) | 12pm