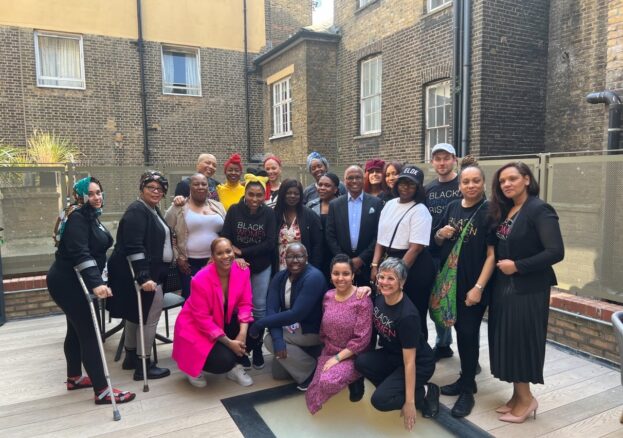 After her own battle with the disease, Leanne realised that mainstream cancer services were not inclusive and did not provide adequate support tailored to the Black community.
We strongly feel no-one should suffer in silence or feel isolated when faced with their personal cancer journey. Through our projects, we provide the platform for cancer patients, and survivors to find support and share their stories.
We want the challenges faced by Black people going through cancer to be visible so that they feel part of the overall cancer narrative (which is imperative for raising awareness in these communities), as well as educating healthcare providers / support services / charities and brands.
Our projects include peer-to-peer support groups, the Untold Cancer Stories Podcast, the Black Women Rising Magazine and our in person events such as our Coffee Mornings. These projects are continuing to grow year on year, helping us support more Black people in the UK and around the world.
Our work is vital because the bottom line is that cancer in the Black community is on the rise and POC are dying disproportionately from treatable cancers. Black people are more likely to be diagnosed with particular cancers such as breast, gastric and prostate. Despite these alarming facts, routine cancer screening and cancer vaccinations remain far lower within the communities of POC, than that of other groups.
Mortality rates for Black cancer patients are far higher than patients from white backgrounds. This is driven by many factors such as late diagnosis, refusing of treatment, not understanding the symptoms and a culture of fear.
In 2020 we published the results of our 100 Women Survey which opened our eyes to the desperate need for more fully funded research within the Black community. The results of our survey (completed by 100 women of colour with a cancer diagnosis living in the UK) showed us that there are still so many myths & taboos which plague the Black community. 46% of respondents were told by members of the community "don't take the chemo, it will kill you".
In addition, the results of the survey helped to highlight the racial inequalities faced by Black cancer patients during their diagnosis, treatment and beyond. 41% of the women surveyed were not offered a free wig via the NHS and 78% of those who were offered a wig reported that there was no suitable option for them. When you put this together with the fact that 96% said that they do not see women of colour represented enough in the media talking about breast cancer, it becomes clear that action is most definitely needed.
Perhaps the most alarming results from the survey surrounded the mental health of those who participated. 81% reported that they struggled with their mental health after treatment and of those who responded, 46% were not offered any counselling or therapy by their healthcare team. Mental Health support is something which needs to be addressed urgently, with therapists who understand the challenges faced by Black people and the community.
Our core principles at The Leanne Pero Foundation are to;
LISTEN…to our members, their voices shape everything we do, every voice matters.
EMPOWER…because empowered people, empower people.
AWARENESS…we know that raising awareness within the Black community is vital.
NURTURE…by providing projects that are empathetic, supporting and friendly.
NAVIGATE… we can help signpost our members to other provisions where additional support and assistance can be found.
EDUCATE… we are passionate about ensuring that the right people know and understand the needs of our community.
So what does change look like for The Leanne Pero Foundation and Black Women Rising?
There are no quick wins or one size fits all when it comes to the complexities of dealing with cancer within the Black community. In order for change to happen we need to address the root causes such as…
Black people not having their concerns listened to when seeking medical advice
more government-backed research into cancer within the Black community with an up-to-date picture of where we are, with clear recommendations
mental health providers understanding the needs of Black people.
Effective solutions for these include…
Equality and Diversity training and education for all cancer medical professionals using real time data
media campaigns and articles that educate everyone about the importance of change in this area
real diversity starts at the top from medical professionals and key decision makers, along with seeking collaboration from organisations such as ours for insight
larger organisations willing to work with us and invest in our work and not dictate what we do
a real commitment to addressing racial disparities for Black people with cancer, alongside a willingness and fearlessness to put saving lives first over public perception / popularity.
There is a long way to go but we are determined to get there. We are grateful for the support we have received thus far and we are hopeful that the support will grow so that we can continue for as long as we are needed. We are ready for the hard work, persistence and heart it is going to take to make sure that the much needed change is realised.
To find out more, please head to www.blackwomenrisinguk.org.