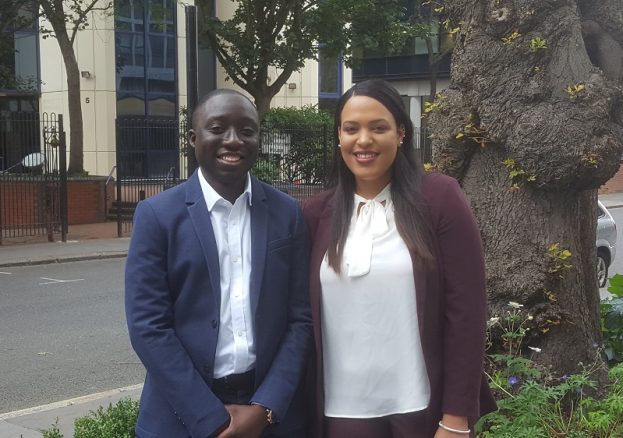 Anthony Ssenyonga and Vanessa Burton at engineering consultancy Mott MacDonald tell us more…
What inspired you to pursue a career in engineering?
Vanessa
I excelled at maths, science and art, leading me towards architecture but after a taster course I realised I was more interested in the mechanics of how a building was built. My grandfather was an engineer in the RAF, and my aunt – who used to be a materials engineer – suggested civil engineering, so I did a placement and realised that it was the career for me!
Anthony
I know it sounds like a cliché, but I always enjoyed problem-solving. I was a big fan of Lego and K'nex as a child, and at school I was especially interested in maths, physics and geography. I googled where those A-levels could take me, and was attracted to civil engineering and the idea of getting involved in the design and construction of large projects, as well as the potential for travel.
What can be done to get more BAME candidates into engineering?
Anthony
Many people don't even know what engineers do, and if the profession was better promoted to students as a positive career path, I believe that many more people of all races would choose to become engineers. Activities such as engineering fairs, summer camps and company outreach to schools would all help too.
Vanessa
Often, when I talk about my career, even relatives don't really understand what I do and just label me as an architect! There is so much misinformation about engineering, and better engagement between engineers and schools would encourage more children of all ethnicities into the profession.
What would you say to BAME students considering a career in engineering?
Vanessa
Don't be put off by stereotypes about who works in the industry – if you want to become an engineer, then go for it! You don't want to look back and think "I could have done that". The profession is becoming more diverse and welcoming, and the more BAME engineers we gain, the more we can change the profession for the better.
Anthony
If you have an interest in solving problems and you enjoy maths and physics, then I would encourage you to pursue engineering as I believe it would offer great job satisfaction.
What perceptions did you have of engineering before you joined?
Vanessa
At first I thought I wouldn't fit in as nobody spoke or looked like me. And when I told people I was going to do civil engineering, I was told "That's so hard, you're not going to make it" and "that's a man's job." I was very scared before going to university. When I walked into a classroom of 300 mostly male students, I remember walking straight back out to take a breath before going back in!
Anthony
I didn't have many preconceptions of the industry as I didn't know any civil engineers. But TV documentaries I had watched during my school years focused mainly on the construction aspect, so I was less aware of the consultancy aspect. I also believed the industry offered lots of opportunity to work abroad.
How have these perceptions compared to the reality?
Vanessa
Engineering is still very male-dominated, but you get used to it and the industry is changing, significantly. Diversity produces inventive and ground-breaking teams where everyone brings something different to the table. Engineering is engaging and enjoyable and I'm glad I didn't listen to all the people who told me not to do it.
Anthony
Being in the consultancy side of engineering, I appreciate and enjoy the processes that occur
before construction work even begins. Working abroad with the company for three months also meant that one of my few preconceptions became a reality.
Who would you consider to be your role model?
Anthony
My grandfather was born in the 1920s in Uganda and started life with almost nothing. Through his hard work he moved upwards and had become a successful businessman by the time he passed away, with family who work and live in countries around the world. If my grandad could achieve what he did with so little to begin with, then the possibilities of what I can achieve are endless.
Vanessa
When I think of role models I think of my Caribbean grandparents, who came to the UK during The Windrush generation and were limited in the careers they could choose at that time in England. Despite this, they worked tirelessly to ensure their kids and grandkids could go to university to have better opportunities than they did. They reiterated that we could achieve anything we set our minds to, and not to let others dictate our futures. Having that behind me as a motivator throughout my entire life made me even more adamant to achieve my goals.
What would you like to achieve over the course of your career?
Anthony
During my career, I would like to work on a range of large international projects. I'd also like to publish a paper on a field or topic I'm particularly passionate about, to contribute to case studies available in the industry.
Vanessa
I am currently working towards my chartership and in the future I want to become a technical leader managing global teams where I will one day lead on major innovative projects overseas.
To find out more about careers at Mott MacDonald visit www.mottmac.com/careers/