When the Windrush docked in Tilbury, she brought with her approximately 492 people – most of whom were men, but also women and children – from the Caribbean, mainly from the islands of Jamaica and Trinidad. Invited by the British government to help 'rebuild' Britain after the destruction of war, the Windrush generation provided a much-needed labour force for industries across the country. Just two weeks after their arrival, the NHS began its work and, to compensate for the shortage of staff, in 1955 a recruitment call for nurses was sent out to sixteen British colonies and former colonies. In the years that followed, an influx of women from the Caribbean came to England to train as nurses. Such was the desperation for staff that in the 1950s there were few qualification requirements – some claim that a 'good' educational background was all that was needed. Though by the 1960s, the requirement for a GCE and O-Levels added a restriction on who could qualify to train.
One such woman who answered the call was Louise Da-Cocodia (1934-2008). She arrived in Britain in 1955 to begin her training as a nurse at St. Olave's hospital in London. The Ahmed Iqbal Ullah Race Relations Resource Centre, the collections of which are held in Manchester's Central Library, holds the transcripts of an oral history project called 'Roots Family History'. For this project, post-war first and second generation Caribbean immigrants, then living in Manchester, were interviewed about their experiences and how they adapted to life from one island to another. Louise's interview is one of many in this project, and with such an eventful life it is no wonder that hers is one of the lengthiest, taken in two parts. She discusses her experience as one of only a few black women at the time training to be nurses in the NHS, by then only in its seventh year, the difficulties and discrimination she and her peers faced, but also the pride that she took in her work.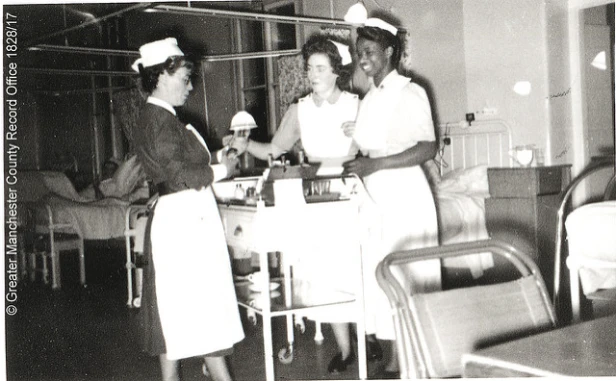 Born in the Saint Catherine parish of Jamaica on 9th November 1934, Louise raised her fare for the ship across the Atlantic through family and friends. In her interview, she says that the nursing profession was so acclaimed in Jamaica that the nursing school in Kingston had a three year waiting list. While some left the Caribbean with the hope of gaining employment upon their arrival in England (many were not successful), Louise applied to a number of hospitals before she left the island, and was successful in two, accepting the offer from St. Olave's. In 1958, three years after she began her training she became qualified as a State Registered Nurse, at a time when there were few black nurses in the NHS. In regards to this imbalance, Louise said that while over the years more women from the non-white colonies and former colonies (e.g. the Caribbean, Africa and Asia) came to Britain for the purpose of training as a nurse, the majority of the nursing staff in the 1950s and 60s were English and Irish, though she claims that few English women wanted to do the 'hard' and 'dirty' work of nursing. Louise enjoyed a 31-year-long career as a qualified nurse in the NHS, having trained in several fields including general nursing, midwifery and health visiting, before retiring as the first black senior nursing officer in Manchester in 1989.
Louise always took pride in her work and strove to expand her knowledge and training, but nevertheless, she was, unfortunately, one of the many black women who was subjected to discrimination based on the colour of her skin – though those who have talked about their experience in the early years of the NHS have often noted how this was not recognised as racism at the time, and was accepted as the norm. The transcripts from Louise's interview show that, as a qualified black nurse, she received hostile treatment from her white colleagues who resented her position, saying such things as "those black so and so's, coming here and giving us orders." With the shoe on the other foot, black women were expected to "take a lot on the chin" with no feeling of companionship from their white peers. Louise also recalled how the white nurses she worked with often got preferential treatment, in that they were given the easier jobs, while black nurses like herself would typically be asked to do the 'worst' work, such as cleaning soiled sheets and emptying bedpans. But to complain about this treatment would be "telling tales".
The prejudice that black nurses received extended beyond that from their colleagues, but also from the patients that they were providing care for. Typically coming from older patients, racial comments and ignorance were often regular features in the work of nurses like Louise; some would object to their treatment being given by black nurses, while others became hysterical that they had merely been touched by black hands, or often they just carried the ignorant belief that Jamaica and the West Indies were in Africa.
Arriving in 1955, Louise was among the first wave of Caribbean women to start training in Britain when there were fewer restrictions on qualifications. However, looking back at her time in the early days of the NHS, she recounted how there seemed to be regulations in place to limit the intake of black women in training schools, and therefore limit the number of black nurses in the NHS. This extended beyond Louise's observation, as shown in two articles from the Manchester Guardian, both written in 1955. The first, published on 2 March (Historical Newspapers Manchester Libraries), describes an incident whereby which Cefn Coed Mental Hospital in Swansea denied employment to 'six coloured nurses'. The article states there was an "abdication [of] authority" as the existing nurses at the hospital voted against the employment of the six women, perhaps in fear of immigrant promotion over themselves, though it was claimed that it was to favour local women first. The women were later employed in Birmingham instead, where there was a shortage of nursing staff and a commitment to up to forty student nurses from any part of the Commonwealth, regardless of their background. Mr. David Rhydderch, who was chairman of the management committee of Rubery Hill and Hollymoor Mental Hospitals in Birmingham, said of this incident that "there can be no compromise on the colour bar" and there is no place for such "least of all in nursing." Similarly another article, dated 19 November, mentions that Storthes Hall Mental Hospital in Yorkshire would not take on black nurses, as they believed that the employment of "foreign nurses [was not] any solution to the problem of under-staffing."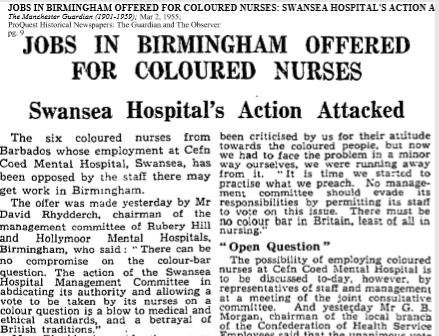 According to Louise, this limitation on black nurses meant that, in later years, she noticed that most of the black women in the NHS were kitchen or cleaning staff, partly because of the educational requirement. While she also says that more black women worked in general nursing as State Enrolled Nurses, with few reaching the status of Sister or manager – Louise was the only black midwife during her training at St. Thomas' hospital.
Despite the discrimination she and others faced, Louise achieved great success in her nursing career and became committed to the black community in Manchester. Serving on regional Race Relations Board committees in the 1960s and 70s, the discrimination that she experienced inspired her anti-racism campaign which she described as "the commitment to bridge the gap which has led to blacks being treated as inferior." Her services to nursing was recognised in 1989 with an honorary Master's degree  awarded by the University of Manchester and was later made a MBE in 2005 for her services to the people of Manchester.
The National Health Service is indebted to women like Louise, who travelled thousands of miles from their homes, families and cultures, to train as nurses not long after it was established, at a time when it was struggling to find staff. These women committed their lives to nursing, often doing the hard and dirty work that others would not do (like geriatric and/or psychiatric care) – all the while separated from their loved ones and enduring racism and discrimination – and the NHS is all the better off for it.