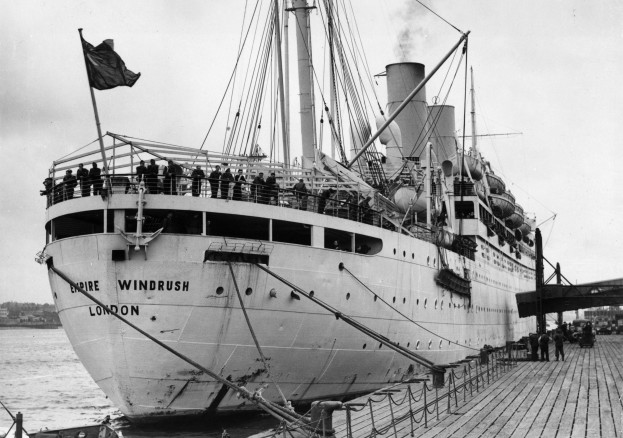 Windrush Day 2021 will soon be upon us. We want to highlight all of the events and activities that will be happening across the UK to celebrate and educate the day and the generation that has been all 42 that have been funded by the government's Windrush Grant Scheme and all of those others. Please go out support those events listed here but also listen and look out for others in your local area and go and support them b telling our friends and families. We need to keep the focus on the day and getting wider recognition and understanding not just from the Caribbean community but all communities in the UK about the Windrush Generation and their contribution to our country.


Go support all of the projects if you can or those in your area, those that resonate with you in fact if you can please support them all even if it's just visiting/following them online and reaching out to them. We need to support one another and our communities as a whole. Remember, people are stronger together.
We need to support one another so that Windrush Day truly becomes embedded in the national conscience up and down the country, so all people not just those of the Caribbean diaspora so we continue to honour and recognise the outstanding resilience, creativity and innovation of Caribbeans then and now.
Please let us know if you do go to any of these events or others and let us know your thoughts and comments, share your pictures and recollections of the day. This way we can record the memories and testimonies to preserve and share the stories and experiences for our ongoing archives and foster pride in the Windrush Generation and their contributions to society.
If you are organising any of these or other Windrush Day events or activities so we can list them on r site and help you get the word out.
Thank you to everyone who is involved in Windrush Day events and activities and keeping to focus on great people.
Enjoy Windrush Day 2021 and go out and support these projects!
Some Events and Activities to Support this Windrush Day 2021
492 Korna Klub London – A virtual project of 4 online events, accessed either 1:1 or in groups, at which 30 Windrush volunteers will appear as an interactive 'human library'.
Leicester Caribbean Cricket Club East Midlands, Documentation of stories from the local Windrush generation who established cricket activities for their community, and the development of resources for local schools/youth clubs from those stories.
Birmingham Museum Trust West Midlands, Commemorating the Windrush generation through 4 short films and interviews; a schools learning resource supported by the digitisation of The Birmingham Black Oral History Project, and an online lecture as part of the Museums on Demand programme.
Prime Theatre South West, An online digital learning resource for schools that will open on Windrush Day, with follow up community activities.
Ipswich Borough Council East of England, An Ipswich Community Radio programme and a town centre event including interviews with key Windrush Generation leaders, which will become archived for use beyond the event.
Gravesham Borough Council South East, A recreation of the arrival of HMS Windrush on the LV21 lightship with stories from the local Windrush generation forming part of an exhibition, and a Windrush Day event with music, dance and food.
Newham Council London, Creative workshops with young people to document the legacy of Caribbean culture in Newham, through the production of soundscapes and photo stories, to be shared with the community through live performances, online events and recordings.
Leeds City College Yorkshire and Humber, ESOL and Special Educational Needs and Disability (SEND) learners interacting with the Leeds Caribbean community through creative workshops, a letter-writing campaign and creation of life storybooks, which will then be presented to the Windrush generation at a celebratory event and shared digitally as an educational resource.
Blackfriars Settlement  Greater London, Creation of a digital archive & soundscape exploring the experiences of and contributions by immigrants from the smaller Caribbean islands, and then touring local schools with the product.
Evewright Arts Foundation South East, Production of monographs as a legacy resource to preserve Tilbury Bridge Walkway of Memories, an art & sound installation to commemorate the Windrush generation, opening on Windrush Day.
Bernie Grant Arts Centre South East, Their 3rd Windrush Festival with 25 creative events championing a wide range of Caribbean diaspora artists, including an 'An Evening With Lovers Rock' on Windrush Day.
Harmony Youth Project North West, A 3 month creative exhibition focused on Windrush with smaller creative projects leading to a final event with a Caribbean church choir, a performance at residential homes by school pupils, live Caribbean music, a seminar on the history of Windrush, and a disco for young people.
Enfield Caribbean Association South East, Production of a book to commemorate the Windrush Generation, a series of short films and a photographic exhibition.
African Caribbean Achievement Project East of England, Documenting the experiences of community members from the Windrush generations as an educational resource for schools and libraries across the UK and hosting the 2nd Annual Windrush Achievement Awards.
Age UK Lambeth London, Workshops with Windrush-generations tradespeople to produce a booklet of their experiences and their contribution to the community through their employment.
Open Doors Forum East Midlands, Capturing Windrush stories via a podcast and videos/short films to produce a 'mixtape' alongside music and photographs for publication online, with a magazine, school resource packs and community outreach events.
State of Trust South West, Caribbean music & dance workshops & performances telling the Windrush story for schools & colleges and other venues, with an exhibition and downloads/CDs of music.
Prison Radio Association London, Production of a new, enhanced series of audio programmes (featuring stories from members of the Windrush Generation) to 3 key audiences including a broadcast on NPR.
Equality and Inclusion Partnership (Equip) West Midlands, A series of workshops to gather creative materials that celebrate, share & illustrate the journey of the Windrush generation to the UK, culminating in an exhibition/event.
Real Photography CIC South West, Commemorating the Windrush generation through a book of their experiences and hopes; a new musical arrangement by Bristol Reggae Orchestra; two celebratory events and free online learning resources.
Leicester City Council East Midlands, Creation of large panels commemorating the Windrush story for display at the African Caribbean Centre, with an unveiling event, plus school resources including themed books and participatory workshops.
National Maritime Museum London, Presentation of the Windrush generation's histories in video & music to complement digitised photographic collection; creation of reminiscence packs for Windrush people experiencing dementia; school workshops and a webinar to share learning.
Advice Support Knowledge Information London, Cultural heritage intergenerational workshops sharing stories of the Windrush generation's arrival, their lives, traditions, and cultural influences, with a Windrush Day celebration event.
Citizens for Change  West Midlands, A community allotment project to enable the Windrush generation to pass on knowledge and skills about plants, cultivation and cooking, with a celebratory event.
Reprezent London, Training young people in content creation for a week of specialist radio programming (eg, interviews/high-profile guests/features/video content/oral histories/music/DJ sets).
Telford African & Afro-Caribbean Resource Centre West Midlands, Specially designed thank you cards to Windrush elders, a Windrush Day celebration, a Windrush themed art competition and school workshops documenting Windrush oral histories.
The Vine Community Centre East Midlands, Documenting Windrush stories through film & photography, a church service on Windrush Day, costume workshops for Nottingham Carnival and other creative workshops with a legacy day in October.
Calm and Centred CIC Yorkshire and Humber, Renovation of the Mary Seacole Memorial Gardens to enable communities to use them as a place of relaxation, and to deepen understanding about the Windrush generation's legacy through information displayed within the gardens.
London Transport Museum London, Documenting stories from transport workers across the Windrush generations, with archive footage, to show how post-war direct Caribbean recruitment has shaped London, with a virtual event on Windrush Day, schools workshops and family activities.
Broxbourne Council East of England, Cultural art workshop for schools informing children about the Windrush generation's contribution to the UK; a market and interactive online sessions and a music event.
Seven Stories, The National Centre for Children's Books Collection Trust North East, Development of a Windrush pack for schools, digital learning resources, and public events showcasing British Caribbean writers and their contribution to children's literature.
Chol Theatre and Arts Company Yorkshire and Humber, A large-scale permanent mural by young people commemorating the contribution of the Windrush generation, inspired by recorded testimonials, with an online schools resource.
Rebel Soul Enterprises CIC t/a Positive Vibration North West, Workshops on dub poetry and traditional Jamaican dance for children and young people, including the promotion of this.
Wycombe Heritage and Arts Trust South East, New museum display focusing on the Windrush contribution to High Wycombe and furniture industries with an event at the museum on Windrush Day.
Fresh Arts C.I.C South East Testimonies from the Windrush generation about their arrival in the UK as children will be turned into a school resource for sharing with primary school children in the same age range, plus a workshop day and digital arts festival.
Kainé Management East Midlands, Workshops to document the experiences of Caribbean Seniors and BAME youth who have migrated to the UK, leading to the creation of a web page and a booklet to be launched in Black History Month at a celebratory event.
Strike A Light (Gloucester) South West, A theatre group led by the Caribbean community will create performances out of stories from the Windrush generation, with a celebratory event and sharing of the stories through live streaming, radio and a film.
Harrow Council London, Composition of a new song and two performances by young musicians, and a Windrush showcase event which will focus on inspirational Windrush stories and include local entertainment.
Alliance for Cohesion and Racial Equality South East, Interviews of elders and children of the Windrush generation will be recorded and shared through Reading Museum's virtual Windrush Day event, including schools sessions with live link to Barbados Museum and University of West Indies, and a thanksgiving service and lunch for elders.
Unity Housing Association Yorkshire and Humber, An exhibition of photographs and videos focusing on the contribution made by the Windrush generation to business and social reform in Leeds plus an online educational resource linked to the exhibition.
The Geffrye Museum Trust South East, A programme of events and workshops celebrating the Windrush Generation and their contribution to homes and homemaking in Hackney, launching on Windrush Day with a participatory digital celebration.
Hull Council Yorkshire and Humber are partnering with Museumand, The National Caribbean Heritage Museum to, Print the online book '70 Objeks and Tings' for distribution to schools, libraries and community venues; producing a new book on Caribbean culture in Hull with an online version and an interactive trail, and a Caribbean cultural exhibition to tour community venues.