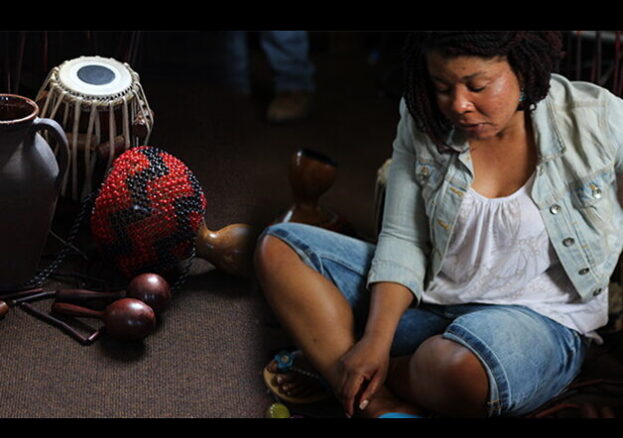 Join storyteller and musician Emmanuela Yogolelo for an afternoon exploring the traditions of songs, harmonies, call-response, percussion and storytelling of people living in and around the Congo Basin tropical rain forest areas, in Africa.
Many rains/moons ago, where I come from people use to come together most evenings and before bedtime, under a tree or around a fire, to listen to adults' telling stories and learn.
Some evenings, a grandmother would be the storyteller. She could start her story with a song, and since where I come from, music is something communal and participative, everyone who wanted would join in the singing. Some would join in with singing or percussions and others with percussions or dance.
Those who join in with singing would sing in different harmonies and those with percussions with different percussive instruments including body percussion like hand clapping, foot stumping and also empty bottles and forks.
So just like these people in the past, listen our perspectives and personal experiences of climate change from a justice point of view and join in the story and song we will be singing while doing this if you want. Join as little or more as you can with singing, percussions or dance. Take your time. Drink the music and follow the singers and musicians.
I can tell you straight away something is happening with mother nature, something has been done to the environment …
This will be a thought-provoking discussion about the ways in which colonialism, conflict, race and migration connect with climate change.
More Manchester Listings MORE
Manchester
Saturday 12 March 2022
Zoe Wees is a German singer-songwriter. Her debut single "Control" charted in several nations including number 1 in…