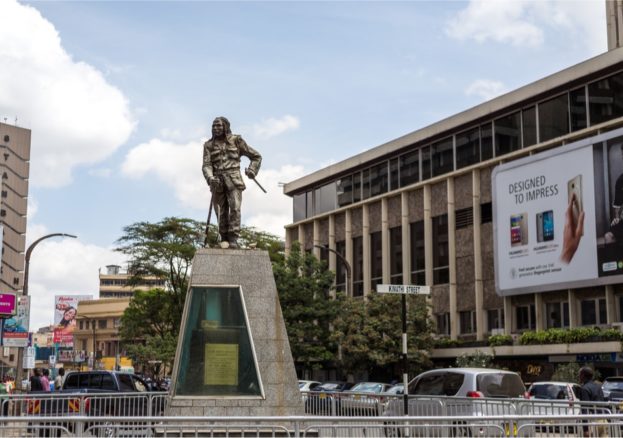 Through a series of discussion forums and interactive exhibits, the event will confront what it means to decolonise heritage in a contemporary context and how British-African collaborations can stimulate and support this process.
It will be accompanied by 'Emergency', an exhibition of the Museum of British Colonialism's work on the Mau Mau Uprising in 1950s Kenya. This will include display of digital 3D site reconstructions created in partnership with African Digital Heritage, oral history interviews with veterans of the Emergency, and a screening of our documentary Operation Legacy, co-produced with History Hit.
The event is open to the public from 11am – 5pm on Saturday 11th January and 10-6pm on Sunday 12th January, with a £5 suggested donation. There will be an informal drinks reception from 5pm – 7pm on Saturday 11th, with limited tickets of £10.
Panels:
Saturday 11th January:
Archives, Libraries and Collections (12:00 – 14:00)
Archives, libraries and museum collections are places where knowledge is stored, negotiated and contested. This panel will explore the issues around the possession and ordering of archives, libraries and collections in the context of colonialism.
Confirmed speakers: Nicky Sugar – Bristol Archives and member of SCOLMA (UK Libraries and Archives Group on Africa); JC Niala – African Collections Researcher at the Horniman Museum; Onyeka Igwe – Artist-filmmaker working with colonial era archives.
More speakers TBA.
Repatriation (14:00 – 16:00)
The public debate around repatriation has been gaining ground, partly following a report commissioned by the French president Emmanuel Macron which recommended the full restitution of looted objects to Africa. This panel will explore the issues around the repatriation of museum objects acquired during colonialism.
Confirmed speakers: Charlotte Joy – Horniman Museum and Goldsmiths Lecturer in Anthropology; Chao Tayiana – Founder African Digital Heritage, Co-Founder Museum of British Colonialism.
More speakers TBA.
OPEN SESSION (16.00 – 17.00)
An open session for participants, audience members and supporters to share relevant work, research areas or reflections from the event.
Drinks Reception (17:00 – 19:00)
Please join panellists, friends and supporters for an informal drinks reception. Tickets in advance, with a £10 donation. Please register via our Eventbrite.
Confirmed speaker: David Olusoga
Sunday 12th January:
Decolonisation (12:00 – 14:00)
In 1987 Ngũgĩ wa Thiong'o made a call to 'decolonise the mind'. In recent times, decolonisation has become a buzzword in all things from university curricula to Extinction Rebellion. In this panel, we will introduce what decolonisation means, and explore how legacies of Western dominance have placed limits on our ability to understand the world.
Confirmed speakers: Meera Sabaratnam – SOAS Lecturer in International Relations and Chair of the Decolonising SOAS Working Group
Reparations (14:00 – 16:00)
The global movement for reparations condemns colonialism as a crime and demands redress for historic injustices. This panel will explore continued claims for reparations for slavery and colonial exploitation and consider how we can galvanise these movements towards the creation of a radically fairer world.
Confirmed speakers: Professor Paul Chepkwony – Governor for Kericho County, Kenya; Chege Githiora – SOAS Lecturer in Swahili, and Gĩkũyũ translator during the Mau Mau court case in London; Tom Wills – Traidcraft Exchange; Nikita Bernardi – Chair.
Fostering UK-Africa Collaborations (16:00 – 18:00)
UK-Africa collaborations have the potential to facilitate the exchange of knowledge and mutual understanding. In this panel, we will explore the different methodologies and challenges to collaborations between the UK and Africa, in the areas of diplomacy, arts and culture and movements for social justice.
Confirmed speakers: Nadine Patel – Head of UK Partnerships & Programmes for sub Saharan Africa Arts Group at the British Council
Tickets are available here, and make sure to register your attendance on Facebook to keep up to date with announcements and updates!