After the 1987 General Election, he was one of the first three black MPs in the Commons, and made his mark almost immediately by wearing a traditional Ghanaian cotton robe at the State Opening of Parliament.
Bernard Alexander Montgomery Grant was born on 17th February 1944 in British Guiana, now Guyana, the son of two schoolteachers, who named him after two generals who were then fighting the Second World War.
His father, Eric, was a headmaster and, later, principal of a Teachers' Training College. His mother, Lily, was a highly respected teacher, both in Guyana and in Haringey, North London and several of his close relatives also chose education as their profession, including his uncle, Basil Blair, who was a President of the Guyana Trades Union Congress.
Bernie was the second child and second son of five children and spent three years at his father's primary school in Ituni, one of the bauxite-mining districts of Guyana. He returned to Georgetown at the age of nine to attend Sacred Heart Roman Catholic School, from where he won a scholarship to St Stanislaus College, a Jesuit boys' secondary school.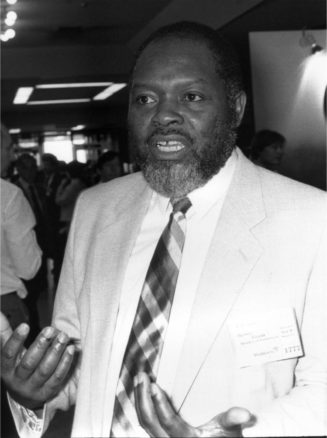 The area in which he grew up in Georgetown, Charlestown, was very diverse with rich and poor families of different races and Bernie was very popular, since he was sociable and good at sports, especially cricket and basketball.
Although he passed his O Levels with flying colours, Bernie left school a year later because he wasn't allowed to study his preferred subjects. He then worked for two years as a laboratory analyst before he left for England to join his family.
On arriving in England Bernie attended Tottenham Technical College before going on to study engineering at Heriot-Watt University, Scotland. He left University in 1969 in protest against discrimination against black students. For the next 9 years, he became an International Telephonist, quickly becoming involved in the Union of Post Office Workers, fighting for the rights of fellow workers. In 1978 he became a full time Area Officer for NUPE, responsible for its local authority and health workers. Bernie founded the Black Trades Unionists Solidarity Movement, and worked for it full time between 1981 and 1984.
Councillor
Bernie joined the Tottenham Labour Party in 1973, and held numerous positions within the local party before being elected a councillor in 1978. His impact was immediate, and within a year he was Deputy Leader of the Council.
By 1985 he had become the Leader of Haringey Council, the first ever-black person to hold such a position in Europe. As leader he pioneered a number of equalities policies to eradicate all forms of discrimination. During this time Haringey Council was one of the few local authorities to develop policies allowing greater access for the disabled, tackle gender and racial discrimination as well as tackling discrimination on the basis of sexual orientation.
The disturbances on Broadwater Farm Estate in 1985, brought him to national prominence, as he defended the youth against police harassment. Despite meeting the full force of the racism of the British press he refused to compromise.
Elected to Parliament
He won the nomination for the Tottenham Parliamentary seat by ousting the sitting MP, the former Labour Party treasurer, Norman Atkinson, with the support of a local black section.
After the 1987 General Election, he was one of the first three black MPs in the Commons, and made his mark almost immediately by wearing a traditional Ghanaian cotton robe at the State Opening of Parliament.
As a working MP he maintained his reputation as a firebrand, backing demands for black sections in the Labour Party, urging the exemption of Rastafarians from the poll tax, and defying convention by disrupting the Chancellor's Budget speech in 1988, shouting "shame, shame".
Often seen as an embarrassment to his party leaders, he opposed holding the Vauxhall by-election in 1989 so long as Labour fielded a white candidate, the constituency included Brixton, with a high black population.
In 1990 he accompanied Rev Jesse Jackson to South Africa, greeting Nelson Mandela on the day of his release. Later he established an information technology centre amid the townships in the Free State, which is named after him.
Bernie Grant almost trebled his majority in the 1992 General Election, and stood for the deputy leadership of the Labour Party, backed by the far left Campaign group.
In 1993, after years of being labelled anti-police, he helped to defuse a potentially explosive situation following the death of Jamaican immigrant Joy Gardener while police were trying to arrest her for deportation.
He was Chair of the All Party Group on Race and Community, and of the British Caribbean Group. In 1997 he was appointed as member of the Select Committee on International Development, and he was the only MP amongst those appointed to the Home Secretary's Race Relations Forum in 1998. He founded the Standing Conference on Racism in Europe in 1990, and also established the Africa Reparations Movement in Britain. In 1995, he founded the Global Trade Centre. A dedicated constituency MP, his last battle was to establish a major arts and cultural facility in his Tottenham constituency, a project which has been progressed since his death and will now be named The Bernie Grant Centre.
On the floor of the House of Commons he was outspoken in the cause of eliminating racism both in Britain and the world. He campaigned against racist policing methods, and deaths in custody, on institutionalised racism in health, housing and education, for refugees, and for greater resources for inner city areas. Internationally he fought for the elimination of overseas debt for poor nations, and for the recognition of the past injustices of colonisation and enslavement.
Contrary to popular belief, however, he fought not only for racial justice, but for oppressed people whoever they were. Many thousands valued him for the individual attention he gave to their personal difficulties.
Bernie Grant channelled the concerns of his community to the highest levels of Government, and was regarded as the authentic voice of Britain's ethnic minorities. By the time of his death, the outspoken activist of the seventies and eighties, was seen as a statesman of great integrity. His funeral at London's Alexandra Palace in April 2000, attended by some 5000 people from all sectors of society confirmed his standing and impact on public life.
In September 2007 in Tottenham, London, Haringey Council opened the Bernie Grant Arts Centre in his name.