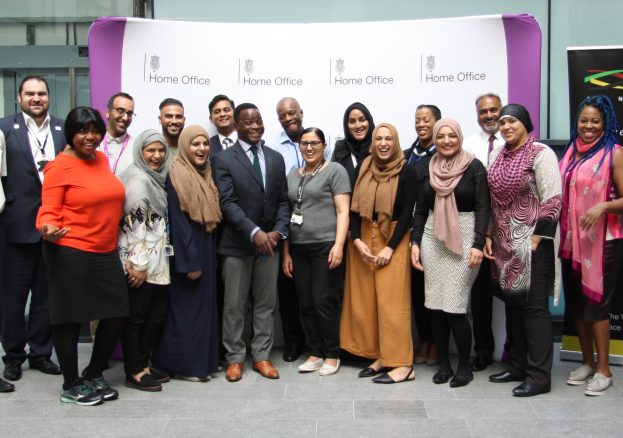 As the Permanent Secretary and Race Equality Champion in the Home Office, I am pleased that the department is appearing for the second time in Black History Month (BHM) magazine and that we will be hosting our largest number of BHM events around the country this year.
The Home Office's longstanding race equality staff support group, The NETWORK, have worked hard to organise these events. BHM has long been a key moment in the Home Office Calendar. This year, as we celebrate the 70th Anniversary of the docking of the Empire Windrush in the UK, and simultaneously work to redress those people and communities affected by our role in the Windrush affair, our involvement is more paramount than ever.
Multiple events will take place at Home Office locations around the country, culminating in the first ever cross-departmental BHM celebration with the Home Office, Department for Food and Rural Affairs and Ministry for Housing, Communities and Local Government. They will focus on a range of topics from black history, race equality and Black, Asian and Minority Ethnic (BAME) role models, to question and answer sessions with the leaders from the departments involved. Presenters will include historians, artists, museum curators, senior civil servants and prominent BAME members of the community.
With close to a quarter of our staff coming from BAME backgrounds, the Home Office is one of the most diverse government departments. We have an active Home Office Race Board and, of course, The Network to support the department's aims for race equality in the department. We have recently published our Diversity and Inclusion Strategy: 'Inclusive by Instinct' to make sure we continue to champion and encourage diversity and inclusion in everything we do, representing and reflecting modern Britain and the communities we serve, right up to the highest levels in the organisation. We have set out our ambition to tackle underrepresentation of women, colleagues with disabilities, lesbian, gay, transgender and bisexual colleagues, and BAME staff across the Home Office.
Championing race equality cannot stop here. There is always more to do, as Windrush highlighted to us earlier this year. Windrush has been a deeply troubling affair for all involved and most emphatically for those who have been personally affected. We will make good our pledge to provide redress to those affected and we are working hard to rebuild the trust and confidence of those involved and their wider communities. The Windrush Lessons Learned Review will help us understand exactly what went wrong and make sure it does not happen again. The review is being led by Independent Adviser Wendy Williams and I encourage you to get involved, provide feedback and look out for details of upcoming Windrush review events in your local area.
I was fortunate to attend several of the Windrush 70 celebrations across the Home Office earlier this year and to hear from colleagues who shared stories about their families' personal migration journeys during the Windrush era.
I recognise that there is still a way to go to becoming Inclusive by Instinct. We have made good progress but we have much more to do. I am working closely with staff and leaders in the Home Office to make sure we are doing all we can to achieve this ambition for the benefit of our employees and the diverse communities we serve.
Celebrating and marking BHM in the way we are is just one part in making this happen.
Scott McPherson, Chair of the Home Office Race Board:
"As the new chair of our Race Board, I know how important issues related to race are to both our staff and to the work we do to serve diverse communities across the UK. Black History Month is a great opportunity to celebrate the contribution made by colleagues from BAME backgrounds and to learn something new. The events are relevant to everyone, of every race – I'm going to attend as many events I can and encourage you to do so too."
Allison Francis, Head of Diversity and Inclusion:
"The activities taking place as part for black history month, are a small but crucial part of a much broader, deeper movement towards creating a truly inclusive culture so that all staff can succeed at the highest levels regardless of background."
Wendy Williams, Independent Advisor, Windrush Lessons Learned Review:
It is crucial that the Windrush review considers the experiences of those that have been directly affected. As such, I've been running a series of roadshows for members of the public. So far these have been in London, Nottingham and Bristol and I will shortly be going to Birmingham, Leeds and Manchester.