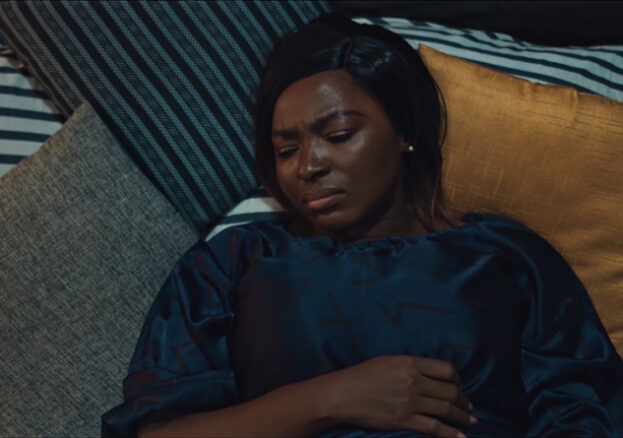 The Royal African Society, in collaboration with the British Film Institute (BFI), Film Africa Festival present FOR MARIA EBUN PATAKI will screen as part of the BEYOND NOLLYWOOD strand at Film Africa Festival 30 October –  8 November 2020 and will be available on the BFI Player during the Festival.
When I was asked to review this film I did not know what to expect. As soon as it starts you are drawn into the world of this couple and automatically feel for them both. It's a poignant, touching Nigerian story that highlights a woman's experience of postpartum depression after she has a child. Derin (Meg Otanwa) does not communicate with her family, friends or baby. Her husband is understanding but he invites his mother (Tina Mba) in to help with baby Maria, and she does not understand or believe anything about postpartum depression. She believes that Derin is a lazy, unfit mother and is worried that her son Afolabi (Gabriel Afolayan) is being taken advantage of.
This film tackles the subject of depression and mental health head on. It's appearance on screen during this time of Covid-19, when so many people are coping with mental health issues, will help people understand more about it and how they can support family members and friends going through these difficult experiences.
It's easy to relate to the characters in this film and many of us will know people in a similar situation or be familiar with the thoughts, emotions and issues raised. You may become reflective, you may feel sad, but something in this beautifully told tale will resonate.
About Damilola Orimogunje
Damilola Orimogunje is a Nigerian screenwriter and film director. His passion for writing began early in life. He wrote columns for many Nigerian newspapers like The Punch and The Guardian. After his degree, he worked with various production outlets like Lagos Television, Royal Roots, Mnet and FilmOne as a content producer and writer. In 2014, he won the United Nations sponsored Homevida Short Script competition.
As a film director, his short films have been selected and screened in over 40 film festivals including Luxor African Film Festival, The African Film Festival, African International Film Festival, Lake International Pan African Film Festival, winning awards for Best Short and Best Actor.
His films have majored around the themes of Love, Betrayal, Depression, and Death.
Damilola sees himself as part of a new generation of Nigerian filmmakers making visually compelling and unconventional African content for social change.
This film will help you to decide.