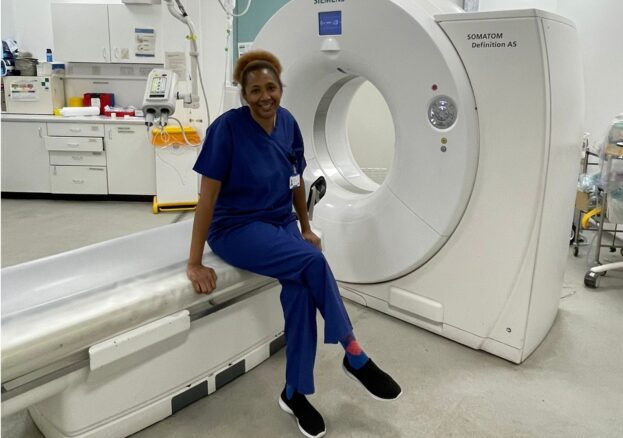 After successfully landing the job, Sheryl began a career with the NHS that would span nearly three decades. "I never thought I could stay anywhere for this long but here I am!" laughs Sheryl, who is now in her fifties.
Speaking from her home in Hackney, East London, Sheryl explains just how varied her career at the NHS has been. Starting out in the Records Department, Sheryl was responsible for ensuring patients' health records remained updated and confidential and were safely stored. "It was an important role,' says Sheryl. "The effective maintenance of good medical records ensures that a patient's assessed needs are comprehensively met."
A few years later, Sheryl gave birth to her daughter Allana and it was then, she realised how flexible working for the NHS truly was. She was able to take maternity leave for a full year and then went part-time to juggle her childcare responsibilities. Her department was very understanding and allowed her to do hours that worked around her child's schedule. "It was all so convenient for me, and I don't think I would have been allowed that much flexibility elsewhere."
After returning to work, Sheryl started spending more time on the hospital ward, which opened her eyes to the importance of good healthcare. She developed an interest in cannulation and was encouraged by her manager to undergo relevant training. Sheryl quickly learnt how to correctly insert a cannula into a vein and take blood samples – and soon moved into a new role, which she describes akin to being a 'mini counsellor'.
"When you're taking blood from someone, you naturally build a relationship with them," says Sheryl. "You listen to their ups and downs, their fears and concerns, and it's your job to make them feel comfortable and reassured." She once did a blood test for a couple; a wife who was giving away a kidney to her husband.
The couple were very worried but Sheryl constantly reassured them throughout the process and answered any questions that they had. After a successful operation, the couple came back to thank her for her help – with gifts, flowers and a card. "It was such a thoughtful gesture – I was truly moved," reminisces Sheryl.
The job also came with challenges. "It's easy to grow fond of someone," says Sheryl describing an elderly patient with dementia. "But one day you're taking their blood and reassuring them, and the next you learn they have suddenly passed away. It can be very emotional."
Today, Sheryl is a Radiography Assistant at the Whittington Hospital; a new role she loves and transitioned to almost two years ago. Sheryl is a crucial cog in the diagnosis and treatment of NHS patients and works closely with radiographers who use imaging to work out which disease or condition is causing a patient's illness.
Sheryl believes to work in the NHS, you need to be a people's person. "You are working with people from all walks of life and it's important to show patience and compassion," she says. What Sheryl loves most about her job is that she is constantly inspired. "From the patients, doctors and nurses to the porters, cleaners and cooks – working at the NHS allows you to work with others who will inspire you every day." And despite its challenges, Sheryl finds it difficult to imagine herself doing anything else. "It's a hard job but we get on with it – and we get the job done".
The COVID-19 pandemic has shown, now more than ever, that the future of England's health and social care system relies on its people. Now in its fourth year, the 'We are the NHS' campaign is back to champion the extraordinary work of nurses, allied health professionals and healthcare support workers, and inspire a new cohort to consider a career in the health service and be part of the NHS's future.
To find out more about the range of roles available, search NHS Careers.