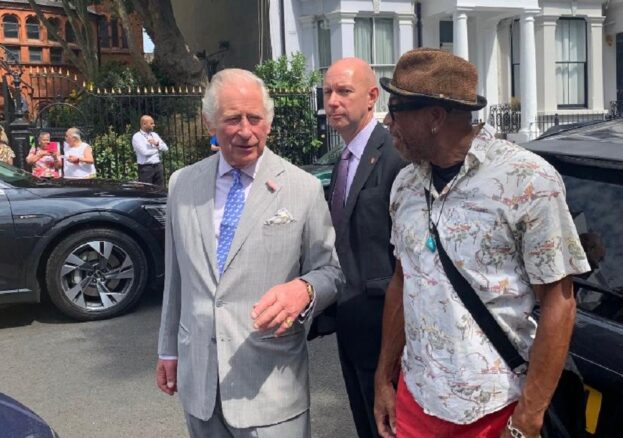 As part of this year's Black History Season, we chat with the wonderful and charismatic Artistic Director CEO, Lifetime Achievement Award Winner & Author Mark Elie, founder of the Mark Elie Dance Foundation and Portobello Dance School and is one of the UK's most successful classically trained professional Dancers developing and working with young emerging talent across the UK.
Could you tell us a little bit about yourself and how you ended up being a classical ballet dancer?
Well looking back, it all happened from my experience as a child growing up and raised in a Westminster children's home on the Warwick estate down near Little Venice, north London W9. My house Mother at the children's home was a wonderful lady we called Aunty Helen, who had the foresight to see this creative personality and energy emerging from me that steered me towards the possibility of becoming a dancer and each week I used to watch the legendary Top Of The Pops on Thursday evening watching Pan's People dancer Babs Powell and trying to imitate Babs with a jumper on my head, flicking it to the right and left and from this I was given lots of loving encouragement and support by Aunty Helen to go forth and do this.
Recently you were given a Lifetime Achievement award and met the now King Charles III, can you tell us about this and how this incredible encounter took place?
Well, the lifetime Achievement award which I was very honoured to receive was for my work in education, working to inspire younger people as a dance educator, helping them to follow their aspirations and dreams presented to me by Once Dance UK, one of London's biggest Dance organizations recognising relevant individuals who have contributed from the UK professional Dance world.
As for meeting King Charles III and Camilla, Queen Consort I had the pleasure of meeting them both when they came to visit the Tabernacle Theatre at Portobello Dance School, where I work and have been based for the past 30 years, it was around the time the Notting Hill Carnival was taking place and I was rehearsing for my annual summer show. The Children delightfully sang Happy Birthday to Camilla and I was asked to have a chat with his Majesty who was really intrigued and interested in the school and its history, we then went on to talk about my career as a classically trained professional ballet dancer at the Ballet Rambert at the Mercury Theatre in Notting Hill Gate which was my first love, followed by contemporary, tap and street and of course musical theatre. Which he replied "Do you know I have always wanted to learn tap, which I then answered, "It's never too late your Royal Highness."
 Can you tell us a bit about your work and your school?
Well, the Portobello Dance School where I work was set up 30 years ago and my aim has always been to make dance education affordable to young people, especially from the diverse sector of the community and to make this a place where people feel comfortable where their engagement to role models are concerned. My first love is classical ballet and when I was learning my craft back in the day most of the teachers at the school were Caucasian, and later on I was fortunate enough to study at the Dance Theatre in Harlem in New York where I worked with predominately black teachers and in reflection of this I think it's really important to have role models that the younger youth from diverse ethnic backgrounds can look up too and identify with, and so I wanted to set something up that young people felt that they could relate to their teaching faculty.
This year Classically British & Co celebrates an incredible 20 years; can you tell us more about what you have planned for this special milestone year?
Can you believe it's been 20 years, well am quite amazed that we have been continuously working through that length of time. This year being a very special year, am very excited to say that we will be presenting a collaboration with Film, live Dance and a screening of a documentary retrospect looking at past and present pioneers finishing with a Q & A with me Mark Elie discussing my life, love and universal vision that is Dance, with wonderful reflective stories and anecdotes past, present and future journeying across my long-standing and truly blessed career. Also am delighted to announce that the legendary Marie Kamara, the only living member of the BALLET NEGRES will be in attendance, coming down to the preview dress rehearsal chatting about her incredible life and career in Dance, we are so privileged to be able to engage with such a legend and a true inspiration for the younger generation.
I understand that this year Classically British & Co will be presenting a special afternoon preview dress rehearsal, taking place at 1:30 pm on Friday 14th October 2022, can you explain more about what goes on at the preview dress rehearsal?
Well, the Classically British & Co preview dress rehearsal has truly escalated to something very special as we now invite up to around 300 children, the general public as well as Universities & higher education sectors. This event runs in association with Black History season to provide an educational historical experience to understand and participate in learning who the pioneers and trailblazers were and are in the world dance from across the US & UK. They also are provided with an insight into the production of the show, talk with the Artists as well as interacting with the professional dancers, chatting with the students as they present their individual talents and overall enjoying an inclusive interactive experience.
Classically British & Co. 2022  will be held on  Friday, October 14th 2022, The Tabernacle Theatre, London, W11 2AY
 https://www.eventbrite.co.uk/e/classically-british-co-2022-an-audience-with-mark-elie-tickets-418863260287