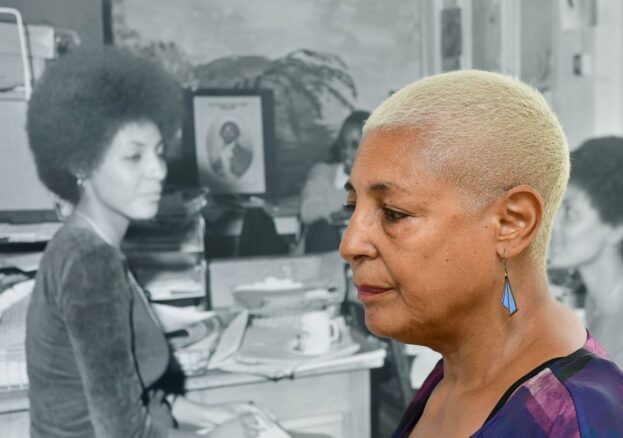 The University of Westminster welcomes Leila Hassan Howe, a leading light in the British Black power movement of the 1970s and 80s.
Please the University of Westminster  event  where they welcome Leila Hassan Howe, a leading light in the British Black power movement of the 1970s and 80s to share stories and insights from her life in conversation with journalist, Jacqueline Springer.
Howe was a member of the Black Unity and Freedom Party, leading demonstrations including the National Black People's Day of Action in response to the deaths of 13 young people trapped in a New Cross house fire in 1981 – at the time the largest demonstration of its kind. She was part of the hugely influential Race Today Collective, working with others including Linton Kwesi Johnson, Farrukh Dhondy and Darcus Howe to steer the monthly magazine and voice for radical Black politics, taking up as deputy editor in 1973 and editor from 1985.
Howe also worked alongside influential activist and intellectual Ambalavaner Sivanandan at the Institute for Race Relations, leading a grassroots rebellion from within the organisation to transform its leadership. This event promises lively conversation and an insider perspective on key moments of Black political resistance in the UK.
The link to the talk will be sent after registration, closer to the date of the event.
Leila Hassan Howe was employed by Institute of Race Relations from 1970 when it was still under the control of the Chatham House.
A member of Black Unity and Freedom Party, the UK's oldest black power organisation at that time, Leila was one of the staff members who overthrow the Institute's conservative management and reconstituted it as an anti-racist organisation. Leila went on to become a founding member of the Race
Today Collective, the deputy editor of Race Today from 1973 and editor from 1985. Leila is a member of Darcus Howe Legacy Collective
Jacqueline Springer is a London-based broadcast music journalist, university lecturer and event curator.
She began her media career in print, writing for a number of specialist music titles before moving unto lifestyle publications, broadsheet newspapers, international music imprints and music-related websites. She was employed by the BBC as a Senior Broadcast Journalist in radio contributing to discussions (long and short form) on contemporary music, culture and representation.
Jacqueline continues to contribute to BBC television radio arts and news programming and arts festivals. Additionally, she works independently (nationally & internationally). exploring race, culture and musical expression under the banner of Contemporary Black Music Culture.
Jacqueline Springer is also the co-founder of fashion, culture and identity studies event curation duo Union Black (London College of Fashion, British Library, the Victoria & Albert Museum) where the relationship between music, sartorial style, race and cultural identities are explored via bespoke commissions.