There are few artists who are the very definition of a generational talent. Mary Cross is one of them…from smooth Jazz to Classic Soul & RNB her voice takes you on a journey. Whether on repeat or the next song on the playlist…sit back, relax, listen and believe the lyrics she utters in a personal serenade that is meant exclusively for the listener…
Mary is quick to share that she enjoys the music and vocals of such artists as: Nina Simone, Oleta Adams, Gladys Knight, Diana Krall, Burt Bacharach, Lizz Wright and many more.
This highly sought-after independent artist with a unique, instantly identifiable contralto vocal instrument is described by some as 'the Mother of Cool Smoke'.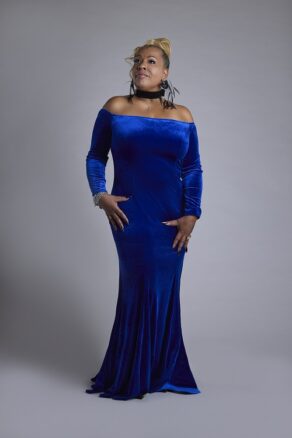 Mary is back to celebrate LOVE with her Sophomore ballad release entitled: 'PROMISE' — which does not fail 2INSPIRE and bring JOY to listeners. This highly anticipated single was released on January 8, 2021 and the Official Music Video premiered January 15th.
Mary's musical influence began when introduced to the music of Phyllis Linda Hyman and Nancy Wilson. The impression was not only their beautiful, iconic voices but the elegant attire they wore on stage while engaging audiences. Such great women of song solidified Mary's commitment to create INSPIRING music.
Fresh off her debut single, In Love, There's A Risk, Mary is back with her highly anticipated single entitled PROMISE'. Captivating from the moment that you press play, it starts off with a lovely piano-led melody and Carl Cox on alto sax accompanied by lush strings. Mary teamed up for a 3rd time, with Philadelphia's own Grammy Nominated Producer Donald Robinson (Rachelle Ferrell, Nancy Wilson, Phyllis Hyman, Vanessa L. Williams and many other artists).
PROMISE is reminiscent of timeless classic soul music that takes its time to deliver and leaves you yearning for more. Mary rides the melody perfectly bellowing low registry vocal tonalities reminiscent of the late great Phyllis Hyman as she sings on the chorus, "promise to be faithful / promise to be grateful / promise that you love me / always thinking of me." The song is in celebration of EVERY person who has or shall ever make the PROMISE."
Mary's rich and dynamic vocals consistently deliver show stopping performances across the United States. The NJ-born and raised singer-songwriter takes audiences on a journey, as she masterfully executes renditions of contemporary and old-school Jazz and Classic R&B. She has performed for the Willingboro Jazz Fest, opened for Eban Brown (former voice of the Stylistics); Chris Thomas (The Mayor) Comedy Showcase; 'Luther Relives' William Smooth Wardlaw and others but is known locally for the sold out concerts.
She founded the band 2NspireU which consists of 5 musicians and 3 vocalists the combined years of music expertise exceed 80 years. They perform everything from Jazz, Soft Rock, R&B, Classic Soul and Gospel. They have performed for many organizations including Robert Wood Johnson, Our Lady of Lourdes, Cooper Medical Center, Lourdes Convalescent Center, private, public and community events sponsored by city, state and local government. They also headlined the NAACP & Gloucester County Sheriff's Department Juneteenth event summer 2020.
Mary believes 2021 is the preparation of our 'Rise from the Phoenix' in hope of the great opportunities for businesses, venues, artists and music lovers worldwide (post covid). More than ever, the earth and its inhabitants need love- for tragically, human contact has been limited due to the pandemic.
The 2021 Love Project includes songs written and produced by a variety of writers and producers including Israeli Composer Misha Segal.
In addition to PROMISE hitting #1 on Amazon UK Hot New Releases, she has charted on a number of charts (UK Soul Chart, Urban Influencers Soul & RnB Charts, Teerexradioteerex, ACXIT and many more. Interviewed with many including Mary Cumming Jordan of WHYY's NPR Radio Show (Radio Times).
Recently interviewed by Rev. Chris Collins for an upcoming Anointed News Journal article.
Mary has been featured by in Frontrunner editorials – most recently January 2021.
The annual Tri State Black History Awards will be honouring Mary Cross and with Guest of Honour Melba Moore on February 27th 2020 in Atlantic City, New Jersey hosted by Sound of Philadelphia soul legend Angela Burton.
Sunday, February 14th Mary performed a virtual Valentine's Day concert sponsored by OTTU (Out of The Universe) Productions and TOKOVL Radio (St. Louis, MO) on Roku television.
The segment also included interview segment of interviews she hosted for her new podcast entitled: Matters of the Heart. The 3 guests interviewed included:
Celebrity Saxophonist Carl Cox who is featured on her new single Promise (Maysa, Kirk Franklin, Najee, and many others) Carl is also an adjunct professor at Rowan University Glassboro.
Cleveland P. Jones, Producer, Singer, Songwriter – Atlanta, GA; and Tanqueray Hayward – the Queen of Philadelphia – who will be releasing her full album in March, 2021
January 2021 'Promise' available on all major platforms and continues to be played domestically and abroad. For more information, please visit www.marycross.org, marycrossmusic@gmail.com.