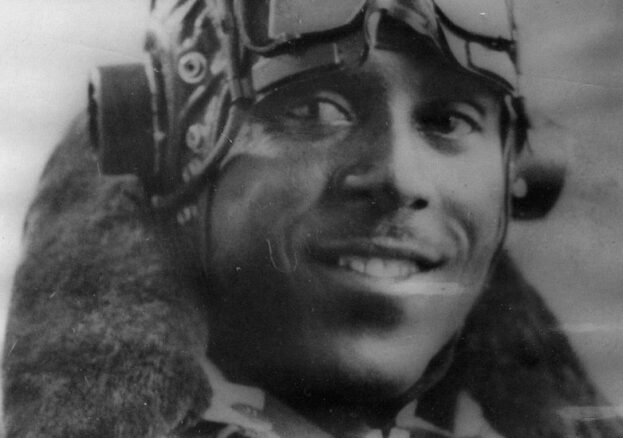 He was selected to train as a navigator, due to his high scores on mathematics tests. Assigned as a navigator with 623 Squadron, Johnny flew 26 missions as a Short Stirling bomber crew member. The flights would take him over the English Channel, France, and Germany, and were always high risk.
The life expectancy of RAF bomber crews was alarmingly low. On the 18 November 1943 as his plane approached Berlin it was hit by anti-aircraft fire. One engine exploded and Smythe was struck twice, in his side and groin. The crew managed to drop their bombs, but their aircraft had become an easy target. Unable to get away they were shot down by a German fighter plan.
Johnny jumped out of the burning plane, hiding his parachute when he landed and trying to find somewhere to hide. But despite an attempted escape on a stolen bicycle and hiding in a barn he was forced to give himself up after German soldiers began firing on the barn. Johnny was taken to the local German police station where one officer kept hitting him with the butt of his rifle in the ribs where he'd been shot.
Only later after Johnny had learned a little German did he understand that the officers had been saying 'Let's kill him`. Military police intervened and took Smythe away for questioning, where he was beaten once more during his interrogation before being transported to hospital to be treated for his shrapnel wounds. While in hospital Johnny was questioned by injured German airmen about why he was fighting a war in Europe. Johnny replied that "Sierra Leone is part of the British Empire and I'm fighting for my king". More questioning followed for Johnny at a centre in Frankfurt, where he was threatened with execution if he didn't co-operate. Johnny refused, but fortunately it turned out to be a bluff and he was transferred to Stalag Luft I, a prisoner-of-war camp in northern Germany that would be his home for the next 18 months.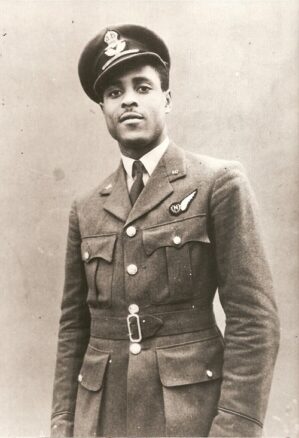 Johnny would remain a prisoner until 1945 when one morning the inmates woke to find that all the guards were gone. The German's had fled at news that the Russian Army was approaching.
Johnny returned to London and was offered a post with the Colonial Office looking after the welfare of demobilised airmen from the Caribbean and Africa. In 1948 he was deployed as a senior officer on a captured German troop ship, which had been renamed the Empire Windrush, and which had been tasked with taking former military personnel back to their homes in the Caribbean. On arrival in Jamaica, they were told that the economy was struggling and that the returning men would have a hard time, so could the ship take the men back to Britain.
The Colonial Office told Johnny that as senior officer he should come up with a plan. Johnny, with the help of the Windrush crew, interviewed each of the men aboard to learn about their skills and qualifications. He explained what going back to the UK would mean, the mean aboard agreed and after informing the Colonial Office the Empire Windrush made its way back to the UK.
His work with the Colonial Office continued and after winning a court martial case defending a demobilised man from the RAF, despite having had no prior legal training, the presiding judge gave Johnny a letter of introduction to the Inns of Court. Johnny qualified as a barrister in London, before returning to Freetown where he would go on to become Queen's Counsel and Sierra Leone's attorney general, before then setting up his own legal practice.
Johnny's work took him round the world and in the 1960s as part of a US tour to promote African culture he was invited to the White House where he met President John F Kennedy.
At a later cocktail party at the British ambassador's residence in Freetown Johnny was discussing the war with the German Ambassador only to discover that the ambassador had shot down his first British bomber at the same time. There was no animosity however, and Johnny and the ambassador hugged and embraced each other.
Only in his later life did Johnny speak about his experiences in the war, according to his son Eddy. Eddy and his family had noticed that whenever they would have to wake Johnny he would wake with a scream or that his toes were painful as he contracted frostbite after the Germans took off his shoes and made him walk barefoot.
In addition, other war injuries began to take a toll as he aged as an X-ray done when Johnny was in his 70s revealed he still had pieces of shrapnel in his intestine. After retiring Johnny moved back to the UK, to Thame in Oxfordshire, where Eddy was then living.
He passed away in 1996 and is buried in Thame.
As the nation's largest Armed Forces charity, the Royal British Legion (RBL) is dedicated to ensuring that all those who served and sacrificed, and who continue to do so, in defence of our freedoms and way of life, from both Britain and the Commonwealth, are remembered.
In our acts of Remembrance, the RBL remembers,
The sacrifice of the Armed Forces community from Britain and the Commonwealth.
Pays tribute to the special contribution of families and of the emergency services.
Acknowledges the innocent civilians who have lost their lives in conflict and acts of terrorism.
The story of Black British and Black African and Caribbean service and sacrifice is one that we are keen to share, a story of men and women who have done so much in defence of Britain and in protecting all our citizens. A story that is replete with stories of bravery and courage, as epitomised by Victoria Cross winner Johnson Beharry.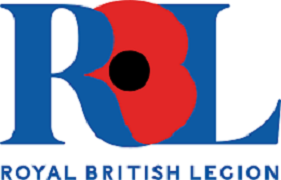 Therefore, to mark 100 years since Britain's current Remembrance traditions first came together, the RBL has bought together over 100 stories of British and Commonwealth African and Caribbean service and sacrifice. The stories range from the First World War to the present day and are of servicemen and women from across Britain, Africa and the Caribbean, representing both the armed forces and emergency services.  
The RBL wishes to offer special thanks to Stephen Bourne for his help in putting these stories together. Stephen Bourne has been writing Black British history books for thirty years. For Aunt Esther's Story (1991) he received the Raymond Williams Prize for Community Publishing. His best-known books are Black Poppies (2019) and Under Fire (2020). His latest book Deep Are the Roots – Trailblazers Who Changed Black British Theatre was recently published by The History Press. For further information about Stephen and his books, go to his website www.stephenbourne.co.uk