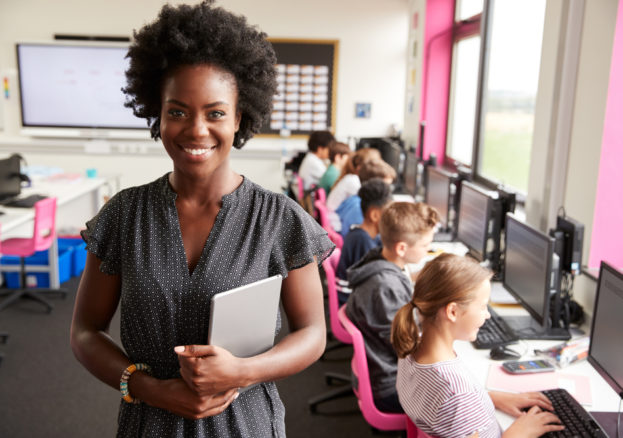 As most teachers will tell you, there's no such thing as a 'typical' day at work. That's because no two days are the same – you're unlikely ever to be bored by a lack of variety. It's also a career that offers great benefits, opportunities for you to use a wide range of skills and inspire students in the subject you love.
Make a difference and inspire the next generation
You may remember a truly brilliant teacher from school who made a real difference to your life. As a teacher you can use your knowledge and passion for your subject to help children unlock capabilities and talents that they didn't even know they had. You'll develop a wide range of transferable skills for yourself in the process, too.
In addition to planning and teaching a range of engaging lessons, you can indulge in your hobbies and interests as part of your work by getting involved in after-school clubs, trips or sport.
A career for the future
As well as job satisfaction, teaching also offers great employment prospects and job security:
94% of newly qualified teachers were employed in a teaching role within six months of completing training
as a good teacher, you'll always be in demand
Once qualified, there are many chances for good teachers to climb the career ladder and find opportunities for employment. View some of the available vacancies on offer via the Department for Education's new teacher vacancy service. This service is in development and lists jobs in some areas of England. It will be rolled out in phases to new areas, so check back regularly for new listings.
A competitive salary and great benefits
You will also earn a competitive salary and have access to a wealth of other benefits – from a generous pension to up to 13 weeks of holiday allowance. So you can look forward to a career that is both personally and financially rewarding.
Financial support while you train
There is plenty of financial support available during your teacher training – depending on the subject you want to teach. You could also access tuition fee and maintenance loans to help support you. Or you could earn a salary while you train on School Direct (salaried) course.
Career progression
Teacher training will set you up to succeed from the very beginning. The variety of opportunities available means you're always learning as a teacher and adding to your range of professional skills. You'll develop the talents to succeed in your career, and realise many professional and personal ambitions.
Leadership
Being a leader in a school could encompass a number of different roles, from taking charge of a year group or a particular key stage, all the way up to becoming a deputy or headteacher. In these areas you'll have a large influence in the school, setting high standards and ensuring continuous improvement throughout the school.
There are also schemes such as the Future Leaders accelerated leadership programme, which offers opportunities to qualified teachers who are ready to lead challenging secondary schools and tackle educational disadvantage.
Focus on your subject
If you're passionate about your subject area, you can pursue a career as a head of department or even as a leading practitioner. In these positions you'll still have time in the classroom, but enjoy additional responsibilities – from training new teachers to acting as a leading authority on your subject within the school.
Pastoral care
If you're particularly interested in ensuring the welfare of students throughout their education, a pastoral role might be for you. This can range from guiding a tutor group through school to becoming a head of year. You could also take on the role of a mentor for young people with special educational needs.
Teachers' salaries
When you choose to become a teacher, you'll be joining a profession that offers a competitive starting salary with plenty of opportunity for career progression. This means you'll not only be making a difference, but you'll be rewarded for your contributions with excellent opportunities to climb the career ladder and receive pay rises.
As a newly qualified teacher, you'll begin on a salary of at least £23,720, or £29,664 in inner London. As you rise up the pay ranges, you could earn as much as £118,490 as a headteacher, in inner London.
Schools now have more freedom to develop their own pay policies to attract and retain the teachers that have the greatest impact on their pupils' learning. So what you're paid will be linked to performance and not length of service – meaning you can increase your salary faster than ever before.