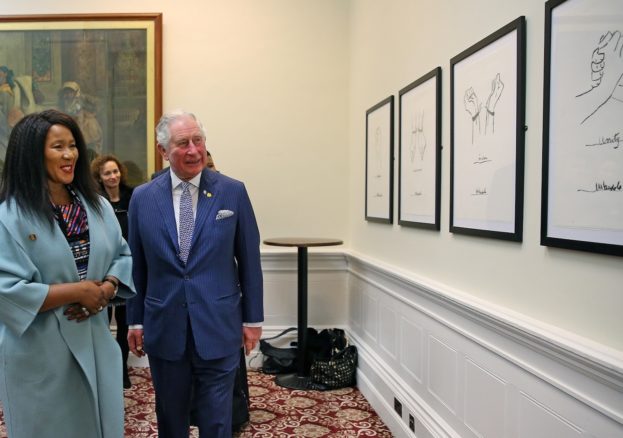 On the 29th anniversary of Nelson Mandela's release from prison, his daughter Dr Makaziwe Mandela has called for people to fight against a "resurgence in emphasising difference", as she visited the site in Toxteth where a permanent memorial is to be built in his honour.
The former South African president's eldest daughter Dr Makaziwe, or Maki, Mandela and his granddaughter Tukwini Mandela visited Liverpool this week to see the site.
They were welcomed by the Mayor of Liverpool, Joe Anderson, who said it was a privilege and an honour for the Mandela family to spend time in Liverpool.  The memorial project had been years in the planning.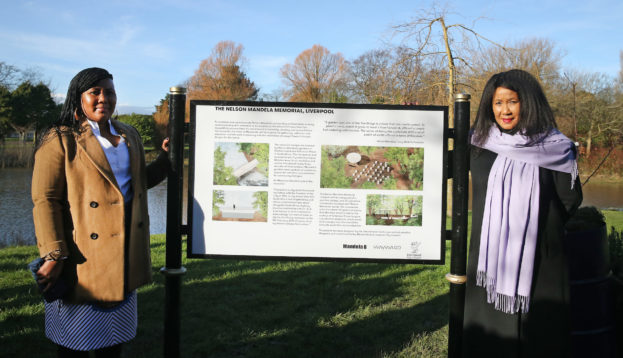 Addressing community members and schoolchildren in Princes Park, Toxteth, Dr Mandela, 65, said: "I think that the memorial garden that is going to happen here should be a reminder to all of us that we all have it in our hands to change the world, it's not a single person who can change the world. She continued "We are different but in our differences there is unity, there is camaraderie amongst all of us. The future doesn't lie in us fighting amongst each other, the future for this planet lies in us collaborating and working with each other across boundaries, across ages, across racial differences. Unless we are free all over the world, none of us are. At this point, where there is a resurgence of emphasising difference around the world, I think we need to fight very hard so that we don't roll back the gains that have been made so far. The future doesn't lie in us fighting amongst each other, the future for this planet lies in us collaborating and working with each other across boundaries, across ages, across racial differences. That's the future of this world."
In a ceremony to mark the start of the work on the memorial, which will include a Freedom Bridge across the lake, a pavilion and 32 cylindrical stoneworks inscribed with Mandela's quotes, Dr Mandela said the family was "humbled" to see him remembered five years after his death
Sonia Bassey, Chair and one of the founding members of Mandela8, said: "Our city has such a strong connection and history with the campaign to free Mandela, a campaign which brought community activists and trades unionists together with one voice. She said "This visit is a chance for us to show Mandela's family the unity and support of our city, to ensure his legacy, values and ideals are formally marked. Working closely with the family, the Princes Park Memorial will aim to break down barriers within local communities, promote social and racial understanding, tolerance and tackle issues around cultural diversity, and to begin the work to build our ongoing educational programme with their support and guidance."
Heather Ring, a director of Wayward who has been commissioned to design the garden noted: "This important remembrance is for future generations to discover how the men and women in the great city of Liverpool stood with Nelson Mandela throughout his struggle to end apartheid and heal a fractured nation. The design of the memorial reflects upon the gardens Mandela tended  while incarcerated, notably in oil drums at Pollsmoor Prison, which stood as symbols of resistance, tools for resilience, spaces for reflection and platforms for community."
Dr Makaziwe Mandela and her daughter Tukwini Mandela meet  HRH The Prince of Wales
At another event Dr Mandela and her daughter Tukwini  met Prince Charles  to celebrate Liverpool's ethnic minorities, and had the opportunity to walk and talk him through the meaning of the five line drawings that make up the Struggle Series drawn by Mandela.
The collection of drawings was donated to Liverpool City Council and charity Mandela 8 last year by the House of Mandela and is on permanent display at the hall. The series comprises five line drawings depicting South Africa's development and Madiba's struggle for freedom, unity and future.
During the tour by the late Nobel Laureate's eldest daughter, a self-effacing Prince Charles praised the drawings by Nelson Mandela and proclaimed him the better line artist.