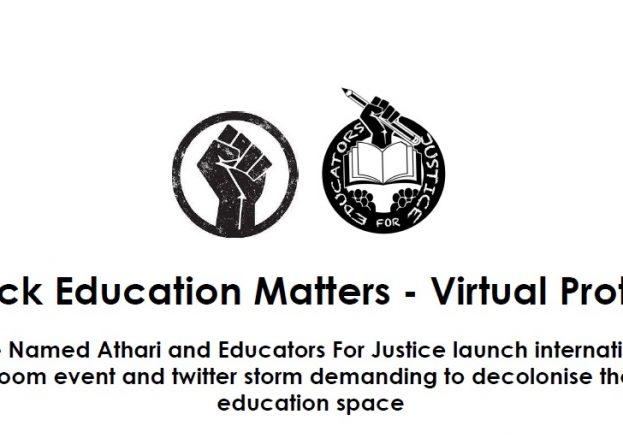 On Saturday June 27th at 2PM BST, following our previous London Black Lives Matter virtual protest that enabled over 75,000 people to join those on the ground in London from home, TNA, alongside Educators For Justice, will be hosting an international live virtual protest and targeted Twitterstorm, to pressure the British Government to prioritise black history in the national school curriculum.
Speakers from the UK as well as the US, through spoken word, readings and panel discussion, will be discussing key topics such as; decolonising the education space, implementing racial bias training for teachers and staff in schools and higher education, as well as speakers from organisations like Mentivity to talk about mentoring and mental health amongst black students.
Children as young as 11 will be talking about their own experiences of racial abuse at school, as well as the importance of harnessing the voices of youth. During the protest we will be launching a #twitterstorm; a digital form of direct action in which large numbers of people bombard key figures such as the secretary of education in the UK as well as mayors in the US calling for immediate action using the hashtag  #BlackEducationMatters
COVID-19 has prompted us to look towards new forms of direct action that are accessible to more members of our community. We will be hosting the event on a zoom account that can hold up to 10K people as well as live streaming it on our Facebook. For more questions please contact: TheTribe@riseup.net
Amidst the current wave of Black Lives Matter protests sparked by the murder of George Floyd and Breonna Taylor as well as the ongoing systemic racism in the UK, Tribe Named Athari (previously known as @LDNBLM) has been acting as the main information and facilitation hub for the Black Lives Matter protests that have occurred in and across London, supporting protests with legal observers, first aid and supplies. We have now transitioned into TNA, a youth-led movement calling for black liberation and racial justice through healing, direct action and radical education. We are laying the foundations for a long term sustainable movement that will run 365 days a year.