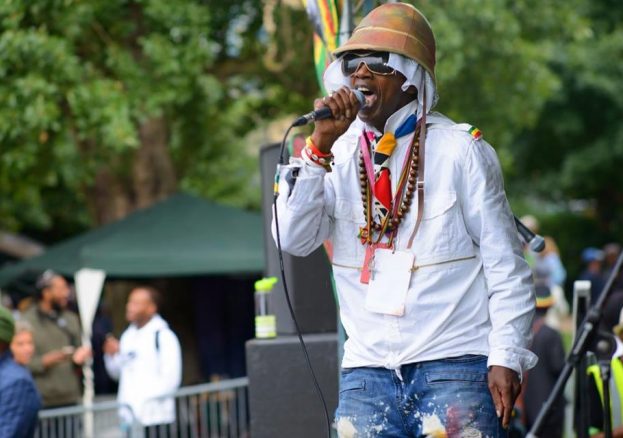 We are proud to announce that the  theme for this year's Black History Month is the 70th anniversary of the Windrush. Award winning artist Scratchylus will be visiting Universities and colleges with his educational and inspirational songs in particular his brand new releases which he has been promoting all summer in the UK called 'Windrush Generations' featuring the Legendary KiddusI from the iconic movie Rockers and Rebel' featuring Barry Ford which also covers Windrush and Grenfell.. Our aim is to create awareness and provoke debate.
The songs have been getting a lot of coverage including BBC Radio London, ITV news, Westminster Abbey 70th Anniversary Windrush Memorial and were featured in this years Notting Hill Carnival and International Reggae Ska One Love Festival.
Scratchylus has just returned from Jamaica working with Inna De Yard Bob Marley's original musicians one of the highlights was performing at the Bob Marley Tribute in Trenchtown.
He also produced some songs in the Jimmy Cliff studio including 'Sweet Child Precious Little Child' featuring the Legendary Kiddus I and Empress Reggae, which is an uplifting song with a precious message for children in these challenging times i..e knife crime and gun crime, and Woman Wants The Lovin With A Little Reggae,
The 70th Anniversary of the Windrush is key to Black History Month, Scratchylus will be very happy to perform his songs and or participate in any debates during Black History Month where he has always had a tremendous response.
Scratchylus still has dates available. All bookings will be promoted on Black History Month and Student Times Websites.
For more information email; ukuniversitybhm@gmail.com or editor@blackhistorymonth.org.uk
You can listen to Scratchylus inspirational songs here
Windrush Generations Starring Scratchylus and Kiddus I 
Rebel Starring Scratchylus and Barry Ford https://www.youtube.com/watch?v=s-c_E7lWnqc
Scratchylus Barry Ford With Pearnal Jr Jamaican Trade and Industry Minister at Westminister Abbey 70th Anniversary Windrush
https://www.numberonemusic.com/scratchylusempressreggaekiddusi/post/25140582-SCRATCHYLUSBARRY-FORD–PEARNEL-JR-JAMAICAN-TRADE-AND-INDRUSTRY-MINISTER-AT-WINDRUSH-70TH-ANNIVER
Sweet Child Precious Little Child Starring Scratchylus Legendary Kiddus I Empress Reggae produced in Jimmy Cliff Studio
https://www.numberonemusic.com/scratchylusempressreggaekiddusi/song/651835-Scratchylus-feat-Empress-Reggae–Kiddus-I–Sweet-Child-Precious-Little-Child
Twitter@Scratchylus
Facebook Rebel Love Reggae
Number One Music
https://www.numberonemusic.com/scratchylusempressreggaekiddusi