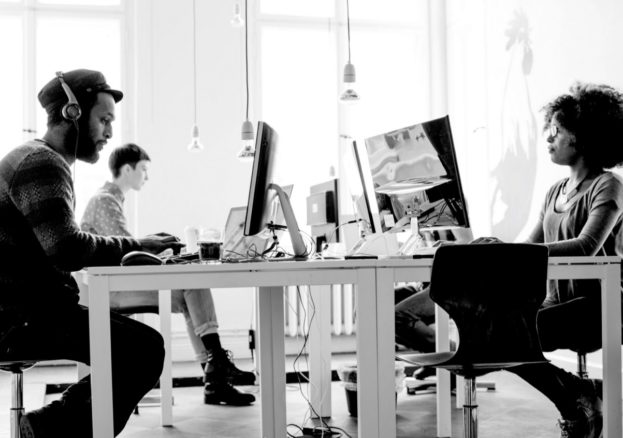 In response to the COVID-19 situation, The TV Collective (TVC) today announces it has teamed up with Channel 4, BBC, ITV and BFI to launch a series of online events that aims to specifically address the challenges faced by BAME industry professionals during the ongoing crisis.
The virtual sessions beginning on Tuesday 12th May and running until July, will take the form of live talks and Q&As, which are free to join and will be led by a broad range of industry experts from across TV, digital media and the creative industries. All attendees can gain access via TVC's Facebook or Instagram Live and they'll have the opportunity to receive career advice and put forward their concerns in an 'Any Questions' type format. TVC will also be offering the event sponsors and speakers the opportunity to take the temperature of the audience via informal surveys which can be found online.
"It's a hugely challenging time for everyone working in these industries right now, especially as we adapt to this new normal" says Simone Pennant MBE, founder of TVC. "While some are adjusting to the new landscape and the opportunities it presents, most BAME workers I speak to, tell me they felt disenfranchised before but now feel more vulnerable than ever. We're using our platform and network to pull together, to unpick the challenges faced by many BAME workers in our industry, whilst providing a safe space for them to ask frank questions from their perspective.  My hope is to use this 'pause' to discuss how we can make the industry more inclusive and progressive as we go forward." 
The first session kicks off with leading industry coach, Remy Blumenfeld, who is an indie founder and former ITV executive who now delivers growth and transformation for high performers across the creative industries. He will be giving advice and answering questions about the best mental mindset and professional strategies to build bridges in uncertain economic times.
Ade Rawcliffe, ITV's Head of Diversity for Commissioning says: "ITV are delighted to support The TV Collective at what is a very difficult time. It is important to ITV that once production is up and running again that we are able to employ talent from the widest range of backgrounds. ITV connects with millions of people every day, reflecting and shaping the world we live in. We do this through the power of creativity, and we are fostering that creativity by embedding diversity and inclusion across our business."."
Miranda Wayland, BBC's Head of Creative Diversity says: "I'm excited that we're partnering with The TV Collective to support our BAME industry professionals at this time. We're committed to ensuring we fully support diverse talent during these challenging times, and it speaks to the heart of BBC's commitment around the wider diversity agenda."
Babita Bahal, Head of Creative Diversity at Channel 4 says: "Inclusion has never been more important than it is now, and we want to make sure that all the brilliant creative talent in our industry feel connected and supported by everyone at Channel 4. We are always looking for ways of not only improving diversity, but more importantly seeking out opportunities to address the additional challenges that talent from BAME backgrounds may encounter. We are pleased to be joining forces with The TV Collective to provide support during the ongoing crisis."
Jennifer Smith, BFI's Head of Inclusion adds: "The BFI are pleased to support The TV Collective and their continued, very important work at this time. Now more than ever, we need to work together and drive our collective efforts forward to build a more inclusive industry."
With more names due to be announced over the coming weeks, people can look forward to contributions from; Jonny Mounsor, Content Manager at Spotify, Nasfim Haque- Commissioning Editor at BBC3, Vivienne Molokwu, Commissioning Editor of Features and Formats Channel 4, Michelle Matherson, Talent Executive,
Fozia Khan, Commissioning Editor of Documentaries Channel 4, Carl Calum, Commissioning Executive of Short form at BBC Three, Satmohan Panesar, Commissioning Editor of Factual Entertainment at ITV, Kwadjo Dajan a Bafta winning scripted producer, Navi Lamba, E4's Digital Executive, Kalpana Patel Knight, Commissioning Editor at BBC, entertainment, Harjeet Chhokar, Commissioning Editor of Factual based in Leeds Channel 4, Alex Wheatle, a screen writer who helped script Steve McQueen's upcoming BBC production, Small Axe and Babita Bahal, Head of Creative Diversity at Channel 4.
Whilst each session aims to provide a space to discuss and collaborate, it will also serve as a lively, valuable and honest forum to delve into the already adapted ways of working and new business models we're seeing from the industry.
Established over 10 years ago, TVC, is a networking resource that coaches, champions and connects BAME workers to paid opportunities, the industry and each other. Last year, it worked with Channel 5 and successfully diversified its supplier base, and as a result the broadcaster are now working with nine new BAME led production companies. More recently, TVC hosted a series of networking events which aimed to build better relationships between BBC Two commissioners and senior BAME creatives and content makers.
Go the thetvcollective.org for more details.