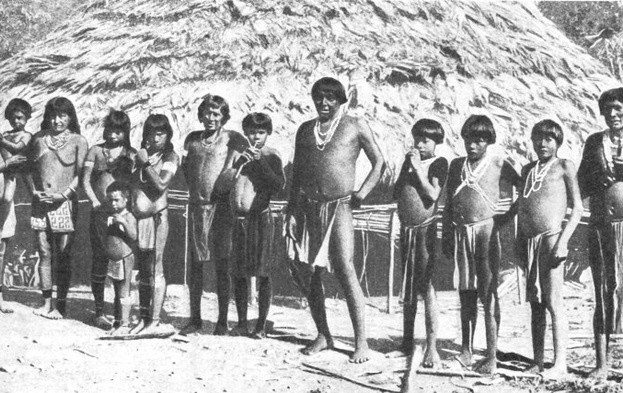 The Taíno have been extinct as a distinct population since the 16th century, though many people in the Caribbean have Taíno ancestry. A 2003 mitochondrial DNA study under the Taino genome project determined that 62% of people in Puerto Rico have direct-line maternal ancestry to Taíno or Arawakan ancestors.
There are about 10,000 Lokono- direct living descendant of the Arawaks, living primarily in the coastal areas of Venezuela, Guyana, Suriname, and French Guiana, with an predicted greater number of Lokono living throughout the region.
The reason for this estimate is that archeologists have found Arawakan sites and traces of their language throughout the entirety of South America. Only Equador, Chile and Uruguay have yet to produce evidence that the Arawak's dwelled in these modern nations.
Furthermore, unlike many indigenous groups in South America, and the Caribbean, the Lokono population is growing- making it the only known surviving case of genetically indigenous Caribbean's to date.
Famous Arawak people
John P. Bennett – (Lokono), first Amerindian ordained as an Anglican priest in Guyana, linguist and author of An Arawak-English Dictionary (1989).
Stephen Campbell – (Lokono), first Amerindian Member of Parliament in Guyana.
George Simon – (Lokono), artist and archaeologist from Guyana.
In recent History, the most famous Arawakan is Jean La Rose, an indigenous Arawak Georgetown, Guyana who awarded the Goldman Environmental Prize in 2002 for her work in halting mining in Arawakan territories, saving Guyana's forests and securing inhabitants full rights to traditional lands.
Arawakan Locations
Currently, there are five places in the Caribbean which have known ties to the Arawak language. There are:
Present Island Name

Indigenous Name

Meaning

Anguilla

Malliouhana
Arrow-Shaped Sea Serpent

St. Martin

Soualiga

Oualichi

Land of Salt

St. Barths

Ouanalao

Unknown

Saba

Siba

Amonhana

The Rock

St. Eustatius

Aloi

Cashew Tree